Fertility & Pregnancy Diet Plans
Best Online Fertility, Pregnancy & Post Pregnancy programs to lose weight with our Best Dietician in Delhi India.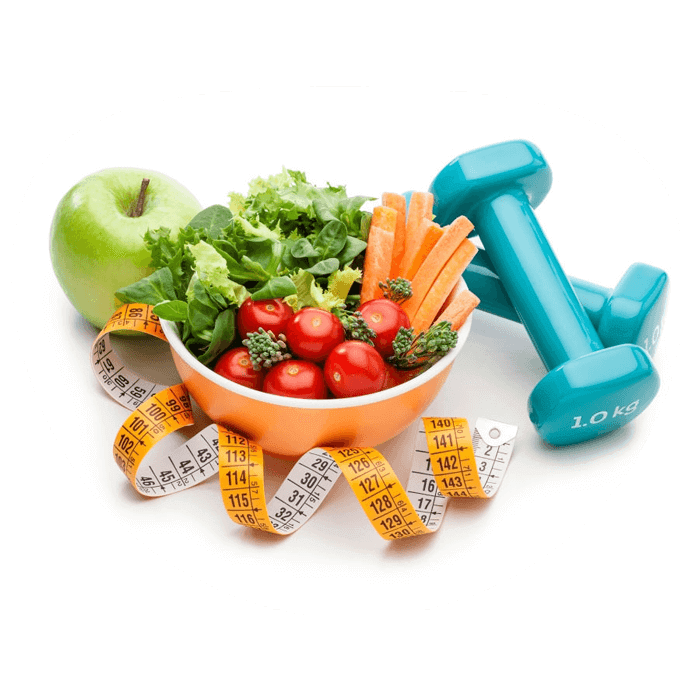 The Best Online Indian Diet Plans for
Fertility & Pregnancy
Our Pregnancy Diets targets right from your "thought of planning" to bring a new life in this world, your intent for assistance & resolve non-pregnancy due to extra weight, up-till your post pregnancy weight management and re-shaping. Our Pre-natal and Post-natal Nutrition & Weight management diet plans help you meet all your pregnancy related diets and staged nutritional requirements.
"Losing Weight could never be easy with our Pre & Post Pregnancy Weight and Health Condition Management Diet Plans..!
We have our forte in providing specially crafted diet plans for Pre & Post Pregnancy. 
We provide Pregnancy Diet Charts according to your lifestyle, office routine or home schedules, meal preferences, eating timings, food allergies, medical concerns, blood-works, emotional behaviour as well as your individualised traditional, religious & cultural aspects i.e. they are totally customised as per your needs.
Fertility & Pre-Pregnancy Diets
For Inspiring Father-to-be & Mother-to-be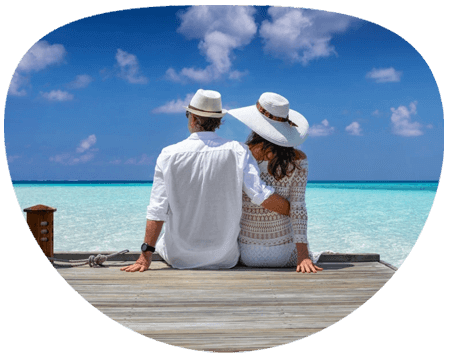 Under this program, we advice the diet program for both father-to-be and mother-to-be.
Of course, the woman is the one who would actually becomes pregnant and bring a new life. Thus men tend to underestimate their role in pregnancy.
The father's health is also of great importance for successful fertilisation, as father-to-be's diet and lifestyle have a significant impact on sperm quality and gene transfers. For this reason, all tips for a balanced & nutritious diets apply to both men and women. 
Our Fertility & Pre-Pregnancy Diet Program is for you if are targeting to-
✔️  Improve potency
✔️  Increase sperm count
✔️  Improve sperm quality
✔️  Increase sperm motility
✔️  Increase testosterone levels
✔️  Lose weight
✔️  Reduce Gestational diabetes
✔️  Evaluate Nutritional requirements
✔️ Reduce Stress or depression management
✔️ Enhance Motivation and support
✔️  Reduce Insomnia
✔️  PCOS / PCOD/Endometroisis
✔️ Facing Hormonal imbalances
From the beginning of pregnancy, the body does not need more energy than usual, but immediately more vitamins and minerals than usual.
The nutritional status of the mother during pregnancy contributes significantly to the development of the unborn child as well as the healthy development of the newborn.
In some cases, deficits during pregnancy can even affect the health of the child for life, which is why an adequate supply of folic acid, iodine and iron in particular is essential.
The scales start to tip up in many women from the 4th month onwards. It is important to track the right amount of calories fed into the body daily; it  should be increased by about 20 percent. This means that 300 to 500 calories can be added to the normal meal turnover to provide the unborn child with nutrients. And this number varies trimester by trimester.
It is very important to track intake of  folic acid, iron, iodine, Vitamin A & D and other important vitamins, minerals, macros & micros for mother and child besides just counting calories and fighting Myths around pregnancy diet.
Our Pregnancy Diet Program is for you if are targeting-
✔️  Optimum nutrition for Healthy mother & healthy child
✔️  Concerned about baby's weight and nutrition
✔️ Confused about what to eat & how much to eat
✔️ Struggling with pregnancy myths
✔️  Appropriate weight gain and management
✔️  Medical conditions like gestational diabetes etc.
✔️  History of miscarriages /birth disorders
✔️ Concerned to be mother
✔️ If you love yourself..!
For Energy Boost, Weight Loss & back in Shape
Congrats for bringing a new life in this world..!
Nutrition after pregnancy is just as important as during it. After all, pregnancy and childbirth is very tiring for the female body and the baby takes up a lot of the parents, so you need to regain your strength quickly. In addition, any nutrient deficits that may have arisen from pregnancy should be compensated for, since the nutrient requirement is greatly increased by milk production, especially in breastfeeding women.
In addition, one or the other woman would like to get rid of the extra pounds she has gained after pregnancy and be back in shape. Here, too, the right diet is of course the be-all and end-all.
We can help you at all stages of your Pregnancy
We extend online diet consultation across the Globe with holistic diet plans for Pregnancy (Pre & Post Partum) with the help of advanced researched programs and functional integrative nutrition approach.
Under our Pregnancy Diet Plans, we will train your body to balance your hormones,  lose extra fat deposits and continue to have a leaner body even after you end you plans.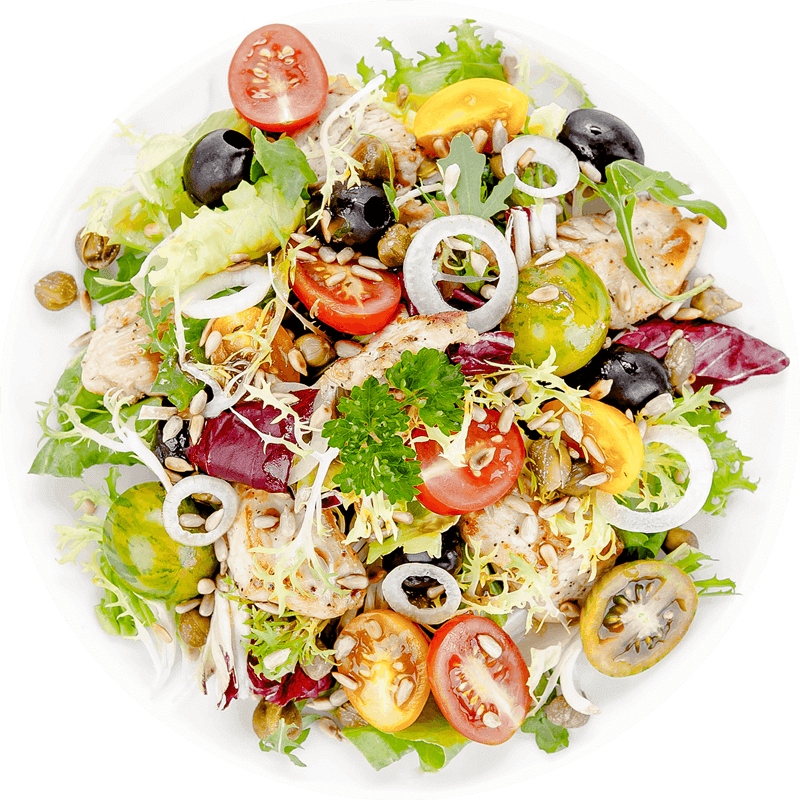 Get your dedicated Dietician for Pregnancy Diet Plans
Nutri4Verve is particularly committed to the personalisation of your program. When you register, our dieticians and nutritionists perform your initial evaluation & assessment, and also at the end of each diet tracker, you take stock of your diet. They are likewise present in the WhatsApp group to answer all your queries and curiosities.
Above all, you will be under the supervision of Best Dieticians and Nutritionists. Our diet experts believe in total nutrition and balance diet, through which you can lose your extra body fat and be in good shape. Once you join us, our best experts will always be by your side.
We provide complete & dedicated support through our client assigned nutritionists through phone, WhatsApp, email, Nutri4verve Diet App,  BOTIM etc. to help you whenever you need it.
Your diet and your lifestyle have more influence on the Pregnancy and your health, than any drug..
Our team commits to be on your side when ever you seek any guidance, simply reach us.
What Our Clients say for our Dieticians & Nutritionists 
Video Testimonial from Ms. Mahima C.
Video Testimonial from Ms. Anjali S.
Video Testimonial from Ms. Nandini K.
Testimonial from Ms. Suranjana M.
What Our Clients say for our
Dieticians & Nutritionists on Google
after following our weight loss diet plans
Real Words, Real Pride.!! 
Gaurav T., 🇺🇸 USA,  Lost 15 kgs in 3 months says-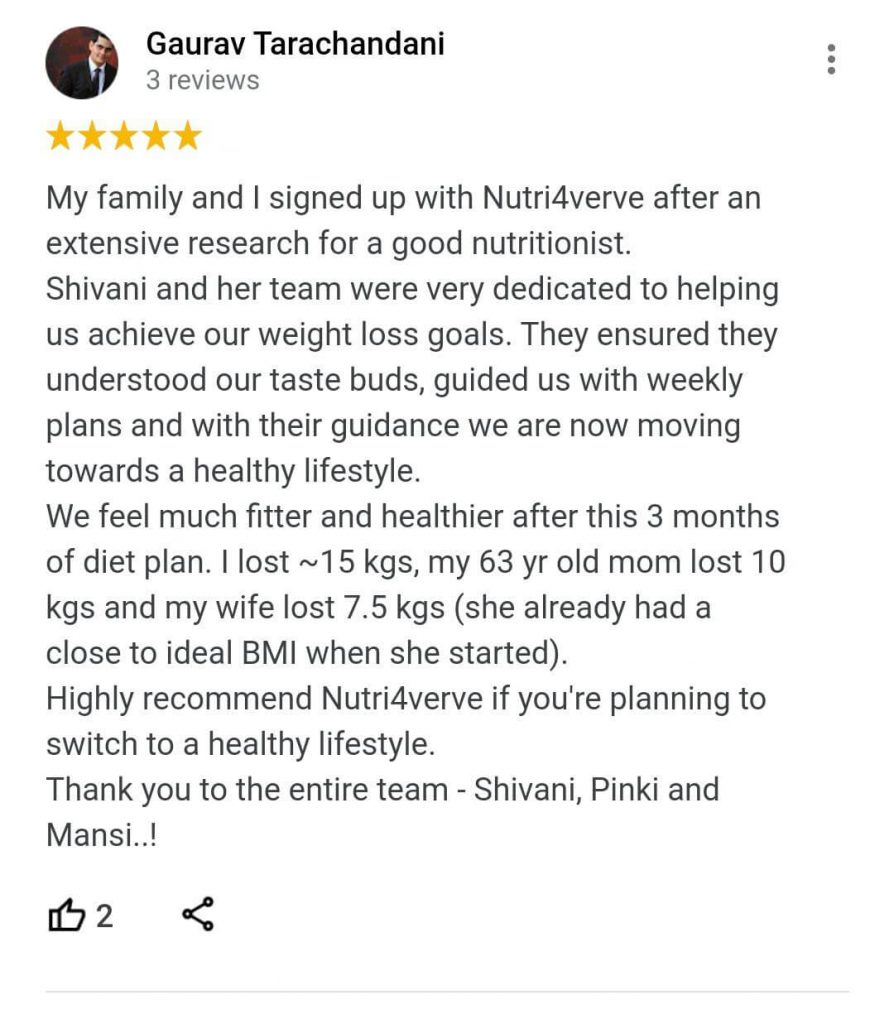 Ashwin G., 🇬🇧 UK, Lost 18 kgs in 3 months says-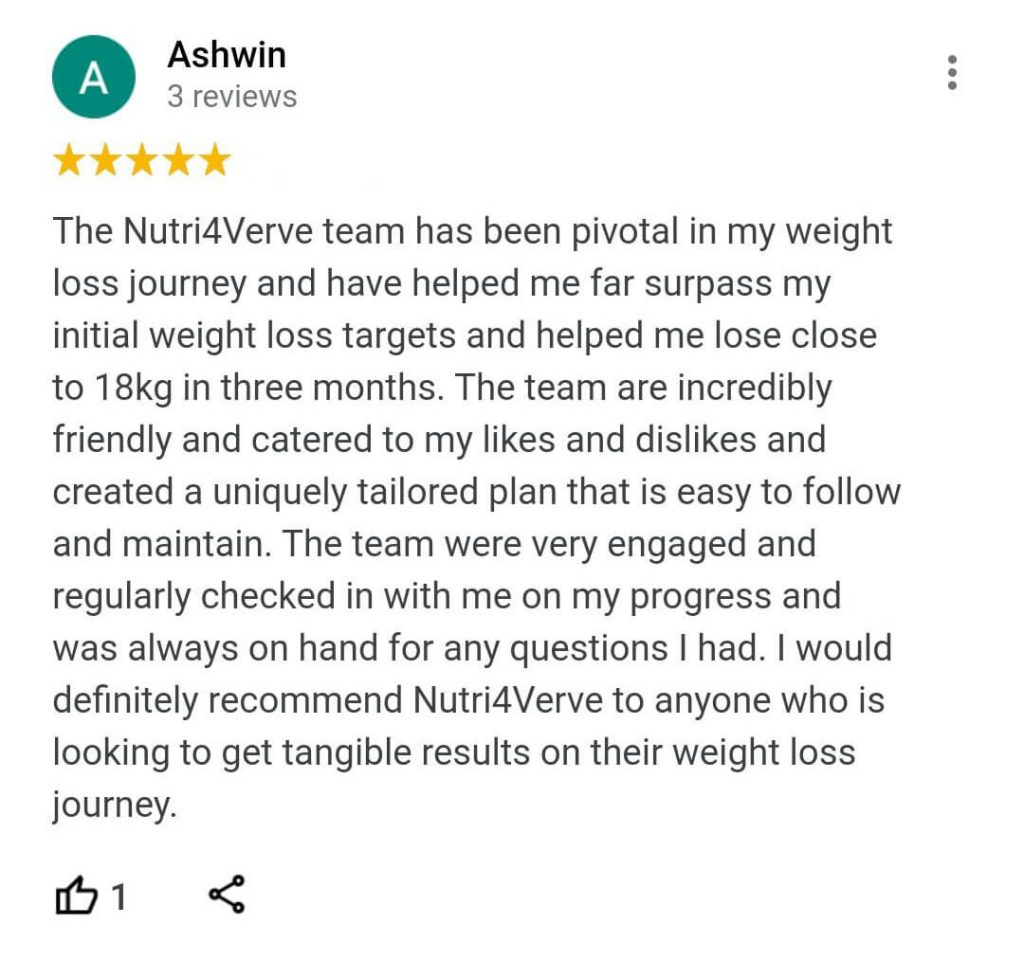 Siddhartha A., 🇸🇬 Singapore, Lost 15 kgs in 3 months says-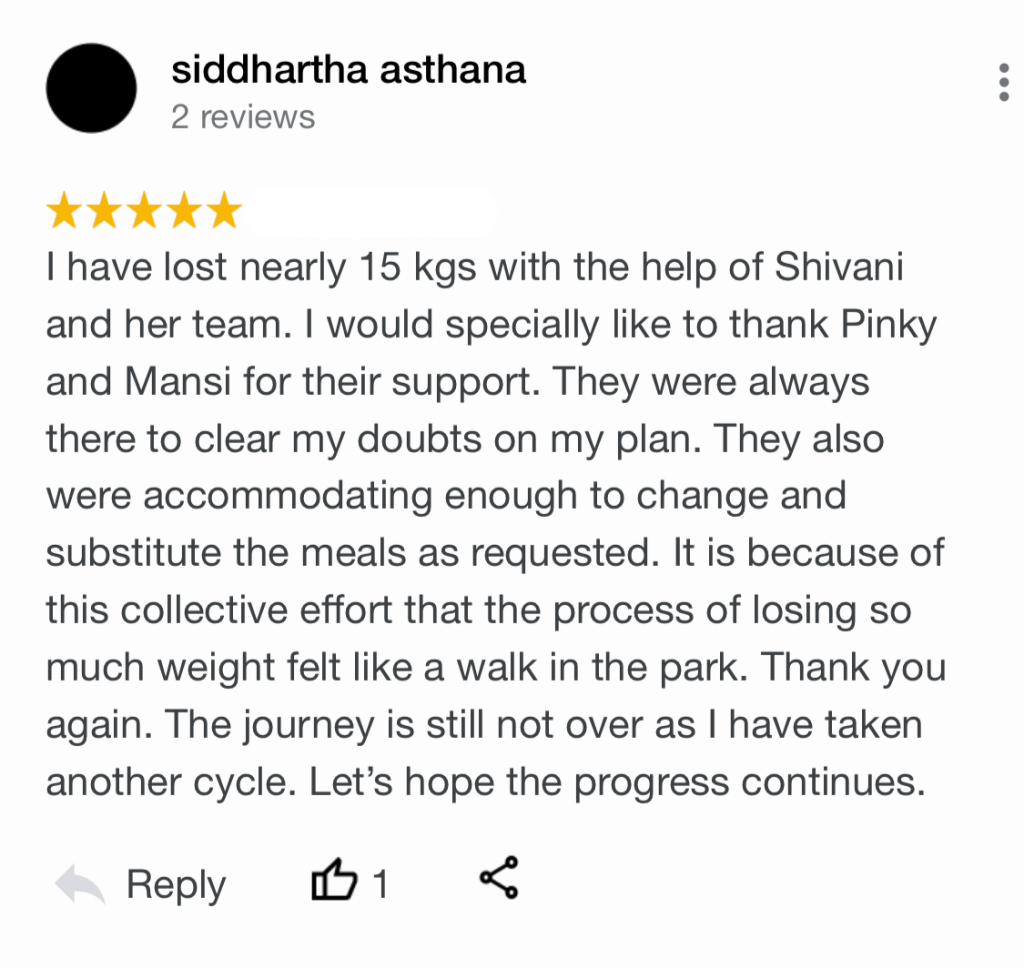 Nandhini R., 🇨🇦 Canada,  Gut Health Management, Lost 8 kgs in 3 months says –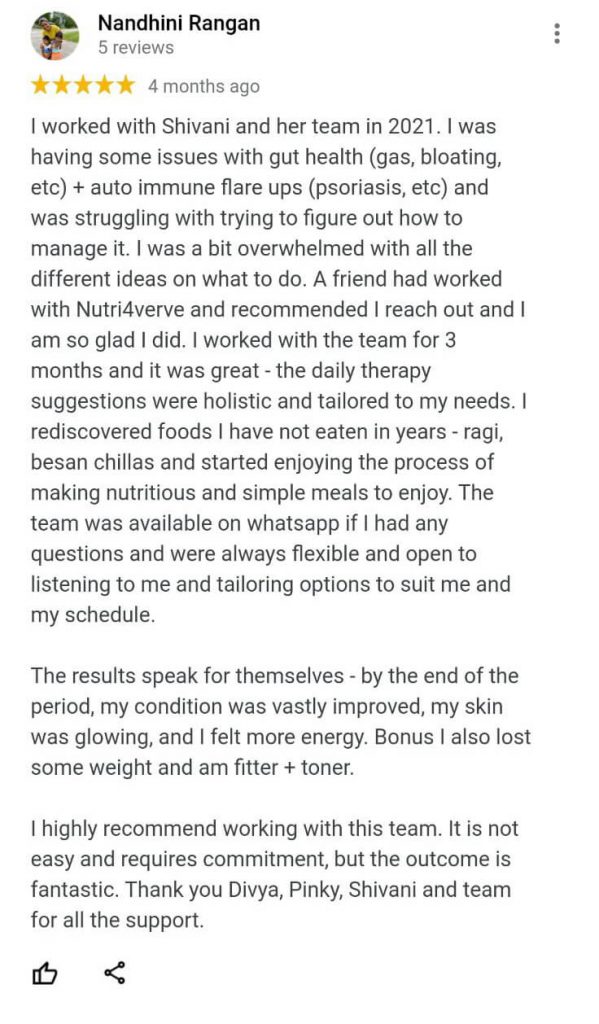 Anurag S., 🇮🇳 Noida, Lost 21 kgs in 6 months says-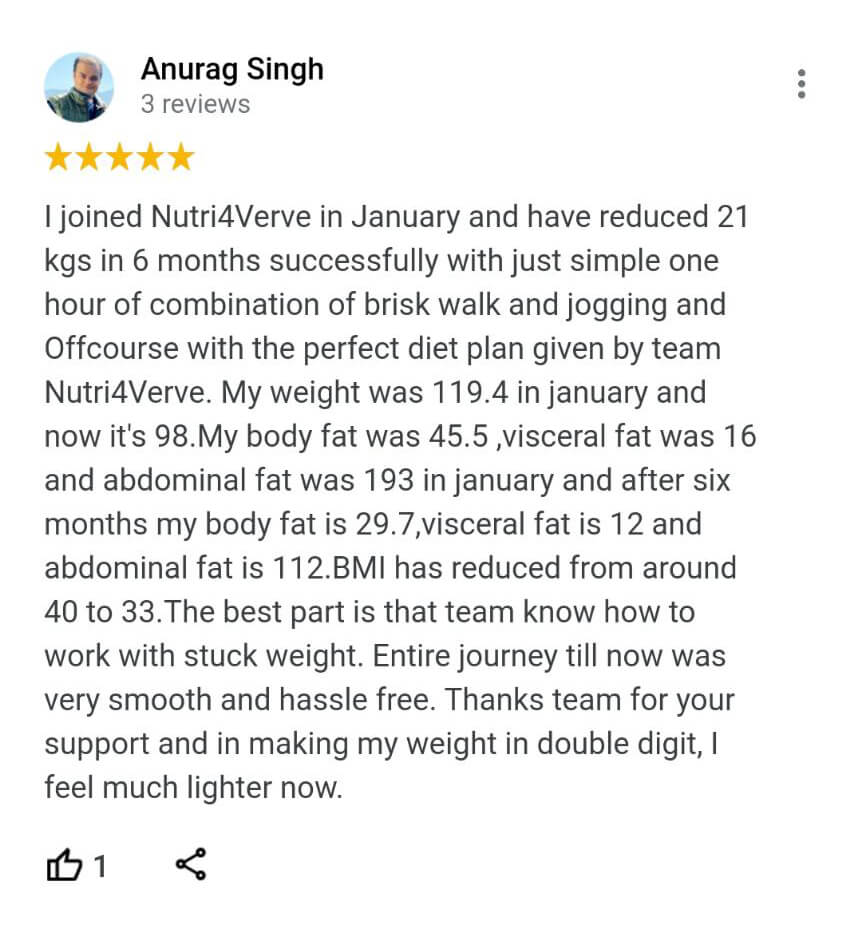 Nilofer K., 🇸🇦 Saudi Arabia, Lost 10 kgs in 3 months says –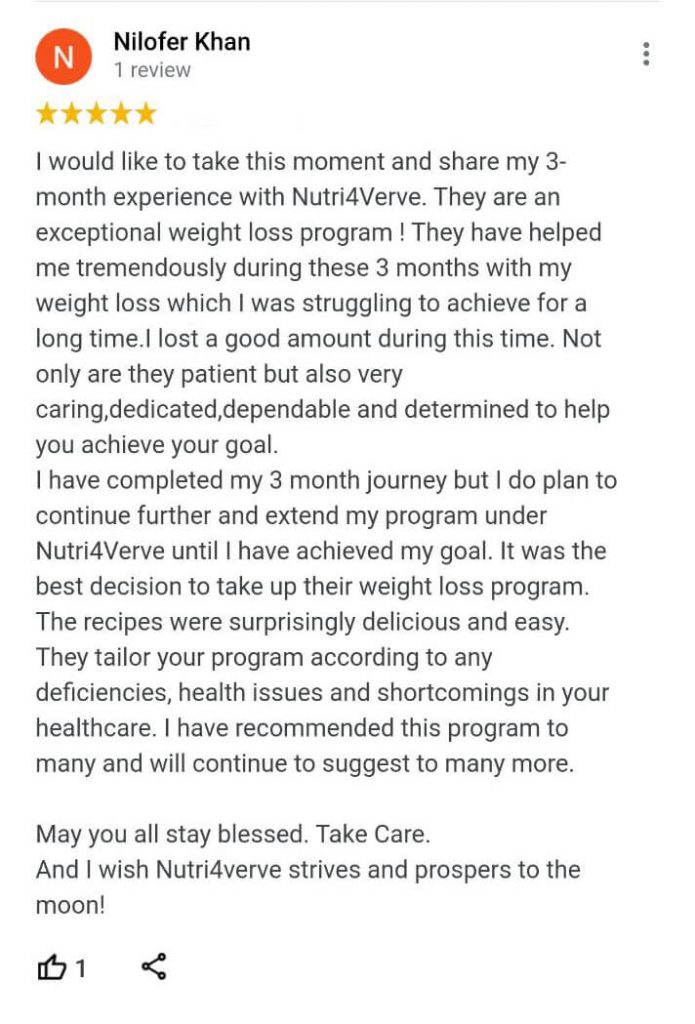 ** Disclaimer: All above testimonial notes are inputs from respective Clients and are placed as it is.. The results are based on their specific diet plans whose results differ from person to person.
Media Inserts, Articles & Columns featuring Shivani Sikri on their Channels & Publications

Questions in your mind..
Have an informal chat with our expert Nutritionists on WhatsApp or Personal Call..
Sign Up For a Free 1-on-1 Discovery Call on Phone with our Nutritionists
to discuss your Health Challenges & Goals 
Just drop in your details & we shall get back to you later at your preferred time..
Top Nutritionist in Delhi India for Quick & Best Indian Diet Plans for Pregnancy Diet Plans
Nutri4Verve : Online Weight Loss Diet Clinic in Delhi
No.1 Nutritionist in India  helps you to slim & stay healthy with the help of effective diet programs or diet mean plans with are Pregnancy friendly with Top nutrition and dietetics Experts.
Shivani Sikri is one of the best Nutritionist – Best Dietician in Delhi India who provides you with best Online Pregnancy diet Programs, who helps you to get your body in good & healthy shape with is help of diet plans which suites to your body. You are in best registered dietitian nutritionists.
Prime and Famous Pregnancy Diet Charts and mean plans options includes Weight loss Diet or Diet for Weight Loss, Pregnancy Diet Plans and Post Pregnancy diets, Diet for Overweight Kids.
Diet Plans include Indian Version Keto Diet plans, Indian PCOS  Diet, Low Carb diets, LCHF Diets, Paleo Diet Plans, Intermittent Fasting etc.
You get the Right Combinations of food and nutrition. All our Programs are supervised practice experts through food service management. Our accredited programs are best for you. you get the highest level of food service management without any fancy nutrition products. 
Ask for Post Pregnancy Weight Loss Diet Charts and Pregnancy Diet Plans Online 
Our Online Nutritionist provide Diet Consultation with our Dietician for Delhi NCR and across India.
PregnancyDiet Plans near me
Nutri4Verve : Best Dietician in Delhi for Pregnancy Diet Plans Therapeutic
Healthy Eating Diet plans in South Delhi NCR, INDIA
World No 1 Weight Management Online Clinic
Copyright / Proprietary Content ©2010-22 Nutri4Verve.
Use of this site is subject to our terms of service and privacy policy. All material provided on this website is provided for informational or educational purposes only. Consult a physician regarding the applicability of any opinions or recommendations with respect to your symptoms or medical condition.