Weight Loss Nutritionist near me
Online Weight Loss Nutritionist near me
Weight loss is a more complex concept than we think..especially without a weight loss nutritionist near me..!
Today with the internet we have access to lots of articles and we think we are well informed. Additionally, There is some truth for sure, but also a lot of preconceived ideas or miracle solutions that don't work (or in the very short term) and which are not without consequences for your body…
While I see some catchy titles as summer approaches like: "Lose 5 kg in 1 week" or "how to lose weight quickly from the buttocks", I just want to tear my hair out but hey I avoid, I'm already losing😅
Hence, without forgetting the slimming pills which are at the top of the gondola of pharmacies…
Particularly, Be careful I do not judge because I know that it is tempting to lose weight quickly and without too much effort but unfortunately the only thing you will lose is your money …
And I don't even prefer to talk about overpriced slimming programs advertised on TV, how I don't like that!
Why consult a weight loss nutritionist?
Personalised support. The dietician will take the time to listen to you, to know your food history and your daily habits in order to propose solutions to achieve your goals.

In addition, thanks to all the data collected, he will be able to create a food plan adapted to YOUR basic metabolism (and not that of Priya, the neighbour) and also take into account your possible pathologies.

No Diet. The weight loss dietician does not give diets because, as we know, diets are often short-term, based on restriction, frustration and we have the yo-yo effect afterwards…

Her role is to make corrections, without prohibiting this or that food, we call it a food rebalancing.

Further, the goal is for patients to slowly lose weight, become independent and understand the basics of healthy eating. And in general, when you eat better by knowing certain concepts, you lose weight and this is maintained over the long term.
Why also reach to a weight loss nutritionist for counselling ?
Barriers to weight loss. The dietitian can help you take a step back from your eating behaviour. We can sometimes have the impression of "eating well" when our diet is not necessarily suitable or even have impulses that we have trouble controlling.

On the other hand, several factors can also hinder weight loss: a disordered metabolism, hormones, microbiota, sleep, deficiencies…

Thus, the dietitian can help you see things more clearly and find solutions.

Go on a diet. Yes, but it's better if you do it correctly!

Did you know that consuming "junk food" can help you lose weight? It is true that no matter what you eat, if your body needs 2000 calories and you only give it 1800, you will lose weight. But the calories consumed from "too fatty, too sweet, too salty" foods are typically empty calories, meaning they don't include any necessary nutrients (vitamins, minerals, fibre, etc.).

However, in order to feel well physically and psychologically while losing weight, these nutrients are crucial!

Motivation The dietitian and client will work together to achieve weight loss goals. She is there to advise you on food but also to support and encourage you in your approach with kindness.

However, it is important that you are really invested and motivated because it is a course that can be long with ups and downs but you must not let go!
Lose weight with a dietician
Lose weight with a dietician…we don't necessarily think about it. But a nutrition expert is a priori well placed to help us lose weight .
The number of diet methods is huge. And many (too many) people switch from one diet to another with great ease.
Thus, You have to be careful because there are some that can be dangerous for your health, and promote the yo-yo effect: you lose pounds, but then you recover them quickly.
This is why before changing some of your eating habits, you must know what is best suited for you, your morphology and your pace of life, your nutritional tastes.
This is where the dietitian comes in!
What is the role of the dietitian?
Expert in nutrition and health, a Nutritionist can guide in the choice of the most suitable foods that a patient can consume. Thanks to a real "food education", it accompanies her in learning the rules of a healthy and balanced diet, to enable him to improve his nutritional status and his state of health.
And above all, in this case, to lose weight.
Furthermore, she is able to establish a whole tailor-made program so that the desired result is achieved in an efficient and reasonable manner.
Why should you choose for a Consultation with a dietitian for weight loss ?
Online nutrition makes it possible to respond to new consultation methods by providing a support solution using new technologies.
The major advantage of a consultation with a dietician if you want to lose weight is that she provides you with personalised follow-up.

Next, she adapts to this to the tastes of the person who comes to consult her, and builds with her, a "plan of attack" of the kilos, adjusted to her social life, her rhythm, her desires!
Often, it is after having tried – in vain – different diets that one decides to meet a dietician. You set goals together that meet your expectations, realistic and progressive goals, so as not to be overwhelmed by too many efforts to be made at the same time!


At what pace should weight loss nutritionist go?
The relationship you build with your dietician is based on your choice and your will. It is you yourself who determine your frequency of consultations, nothing is obligatory. That said, it's important not to miss getting started. If you don't lose any pounds at first, it's good to get back in touch quickly. The frequency of consultations depends on the needs of each patient: some are easy to handle, others, on the contrary, need to be monitored more regularly. The dietician will play the role of a real coach.
From what age can one consult a weight loss nutritionist ?
There is no age to take charge of your diet!

Of course, the children will be accompanied by one of the parents. It is important not to allow overweight to take hold in early childhood thinking that "it will get better with growth", because it is to take the risk of seeing frank obesity set in during adolescence.

On the other hand, correcting a few dietary errors as soon as possible makes it possible to regain harmonious growth while reducing overweight.
How Nutri4Verve approaches for Online Diet Consultation
Our Unique & Customised Diet Approach can help you Lose Weight & Stay Healthy from anywhere in the world..!
Preventive & Holistic. Firstly, We Believe in Preventive Therapy and Holistic approach by mentoring our clients to adopt functional nutrition & holistic lifestyle. 

Updated, Intelligent & Unique. Secondly, Our all programs are updated, evaluated and revised from time-to-time.  Additionally, Inspired from latest researches & methodologies, all our programs are fully personalised for individual needs. Still they are made simple, realistic, practical & sustainable.

Motivational. Next, Our Nutritionists intend to work on individual behavioural changes by giving easy guidances. Thus it will inspire you to do better each day, so that you find your inner motivation to get back in good shape.  Everything, physically & mentally. Importantly, We not only want you to lose weight but also lose fat, gain muscle strength and attain best of energy.

Integrative. Importantly, Our Nutritionists focus on overall wellness and well being of mind body and soul. Next, We emphasis on not only fat loss and clinical requirements but also improving the quality of life. Finally, We achieve by improving sleep, mental & emotional health, eating behaviour and attitude towards your overall well-being.
READ MORE ABOUT OUR APPROACH TOWARDS ONLINE DIETICIAN COUNSELLING
How to make an appointment for Online Dietician consultation?
At Nutri4Verve, you can simply – 
Firstly, Call us on +91-8800339577 for an informal discussion about your health goals and our diet experts will guide you precisely about our Diet Programs best suited for you.


Additionally, You can WhatsAPP us for a brief chat and fix an appointment for your most convenient time of conversation. Follow WhatsAPP link to chat now..!


Alternatively, Leave us your details in BOOK YOUR APPOINTMENT section below and we shall connect with you at your preferred time slot.
How much a nutritionist charge for Online Diet consultation ?
Normally, a Nutritionist charge on the basis on per visit or monthly/3 months/6 months /1 year diet programs. So the nutritional advice is billed per hour or monthly basis. 
Amount varies depending on the provider, qualification and scope of the diet consultancy. For instance, a nutritional consultation usually consists of around 3-10 appointments. 
Average fees or cost for nutritionist in Mumbai is between Rs. 500/- to Rs. 5,000/- per online diet counselling session.
The average cost or fees for online dietician consultation is Rs. 2500/- to Rs. 60,000/- per month. 
Of course, the charges for the nutritionists vary depending on education, specialisation and experience. The costs can also vary in the different regions and cities.
Healthy weight loss - The Personalized concept at NUTRI4VERVE
Lose your weight naturally. With the help of our  professional nutritional advice by experienced dieticians, you will reach your desired weight. Namely, a key factor in weight loss, in addition to sport and exercise, is proper and healthy nutrition. So, feel comfortable in your body again.
Our nutrition experts will help you lose weight and integrate a healthy and balanced diet into your everyday life. So, you often don't have to do without your favourite foods.
Especially, learn to pay attention to your energy intake and the foods you eat (vegetables, fish, meat, snacks, sugar, fat, carbohydrates, fiber). Nationwide and internationally, we support you with professional nutritional advice on losing weight.
Further, Our recommendations are  individually tailored to you and your personal requirements. Break with your routine step by step and achieve a better body feeling and well-being. Particularly, you lose weight naturally without diet pills. 
Simply, lose your pounds with professional guidance. We will create an individual meal plan (diet plan) especially for you – no copy paste stuff.!
Finally, our experienced and certified diet specialists ensure long-term success.
Interesting Facts on Instagram page
1 - Dietician Shivani Sikri - Best Indian Dietician Online
Shivani Sikri is an internationally renowned award-winning dietician, nutritionist, columnist, blogger, and nutrigenomics counsellor.
Dietician Shivani is best known as the co-founder of Nutri4Verve. Her online clinic, where she provides customised dietary and nutrition guidance to her clients. Sikri has been honoured with several accolades, including the Best Dietitian in Delhi. And the Sattva Iconic Wellness Award 2021. You can surely contact the best nutritionist for weight loss in India and across the globe.
After completing her Masters, Shivani Sikri further attained her POST GRADUATE DIPLOMA IN PUBLIC HEALTH AND NUTRITION (PGDPHN). Additionally, she also completed her POST GRADUATE DIPLOMA IN NUTRITION & CLINICAL DIETETICS. 
To further enhance her knowledge and skill-set as a Nutritionist in the field, she had accomplished several Professional Certificates. 
Additionally, Shivani has also completed specialised Extension Certificates from Texas A&M, USA.
She has also excelled in her Advance Course in "Nutrigenomics for Professionals in Nutrition" USA.
Shivani Sikri is also a Certified Naturopath.
WEBSITE : https://nutri4verve.com/
Contact : +91-8800339577
Email : [email protected]
Client Testinonials at Nutri4Verve
What Our Clients say for our Dieticians & Nutritionists 
Video Testimonial from Ms. Mahima C.
Video Testimonial from Ms. Anjali S.
Video Testimonial from Ms. Nandini K.
Testimonial from Ms. Suranjana M.
What Our Clients say for our
Dieticians & Nutritionists on Google.
Real Words, Real Pride.!! 
Gaurav T., 🇺🇸 USA,  Lost 15 kgs in 3 months says-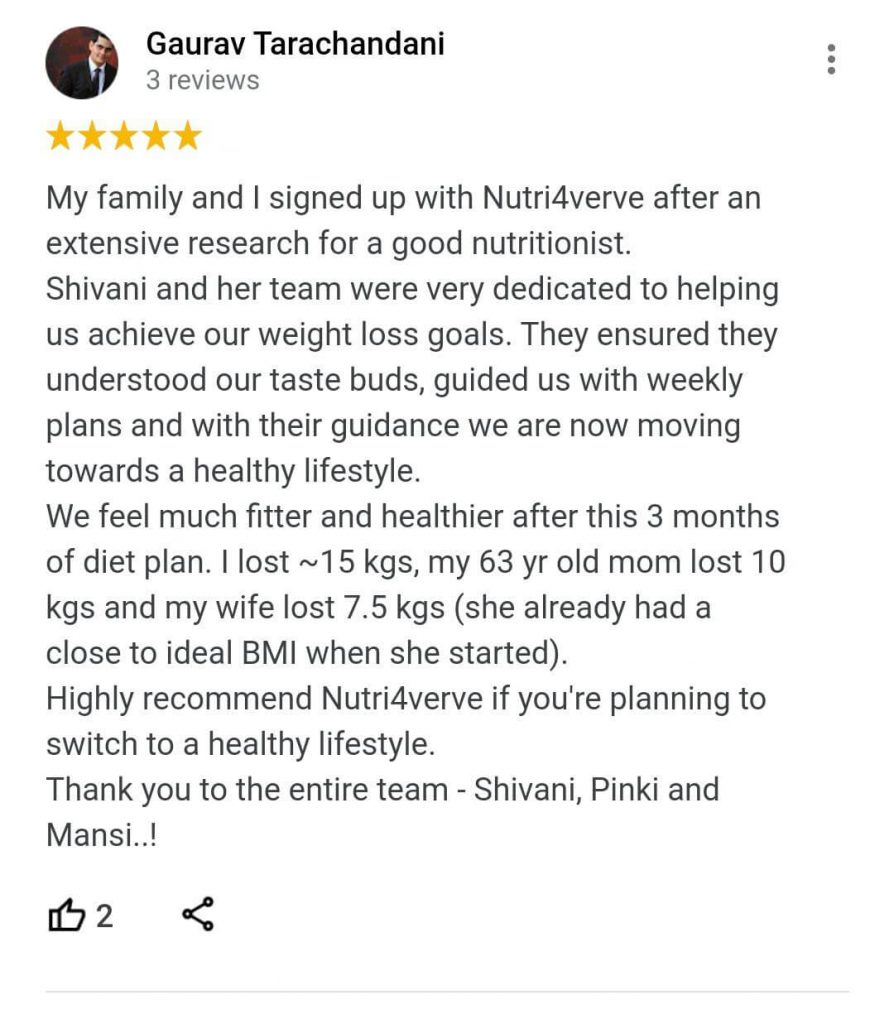 Ashwin G., 🇬🇧 UK, Lost 18 kgs in 3 months says-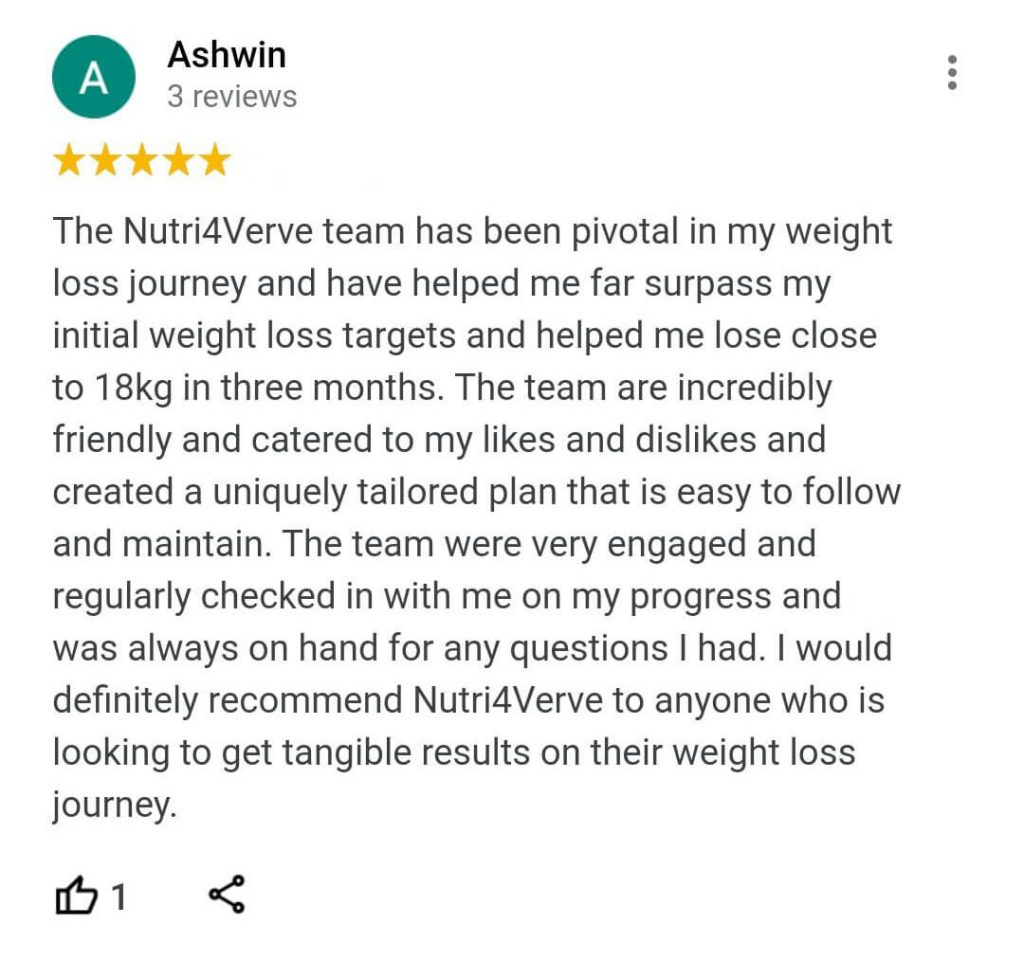 Siddhartha A., 🇸🇬 Singapore, Lost 15 kgs in 3 months says-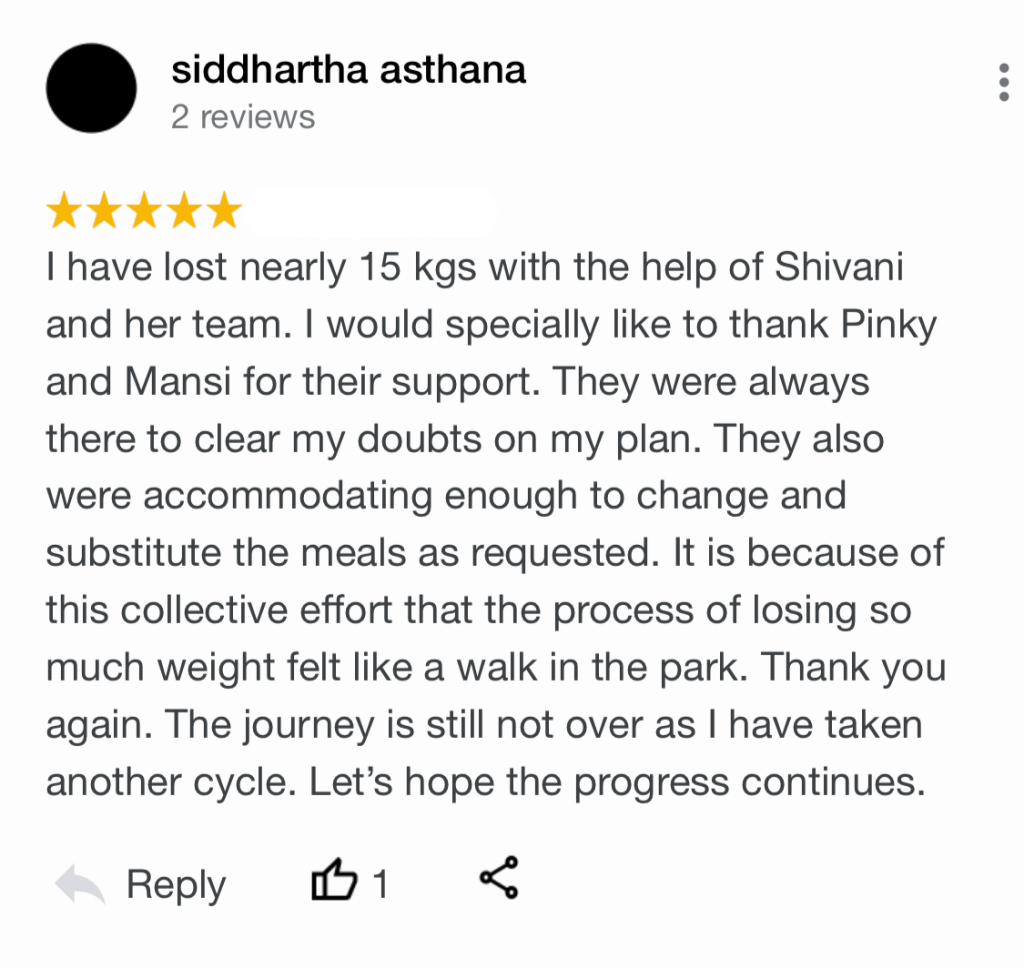 Nandhini R., 🇨🇦 Canada,  Gut Health Management, Lost 8 kgs in 3 months says –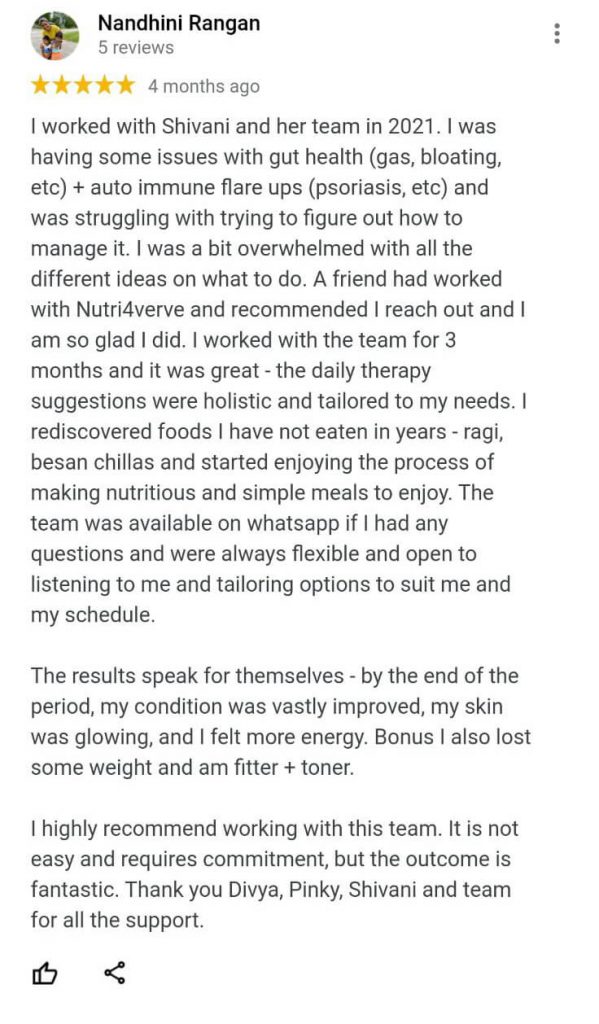 Anurag S., 🇮🇳 Noida, Lost 21 kgs in 6 months says-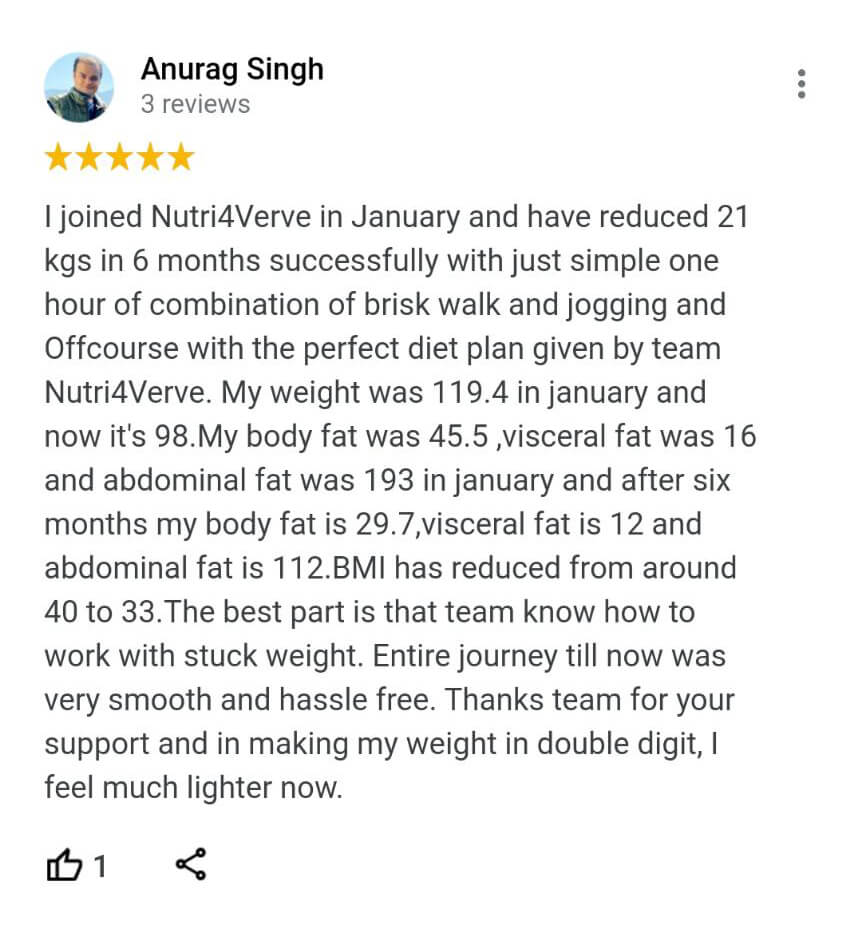 Nilofer K., 🇸🇦 Saudi Arabia, Lost 10 kgs in 3 months says –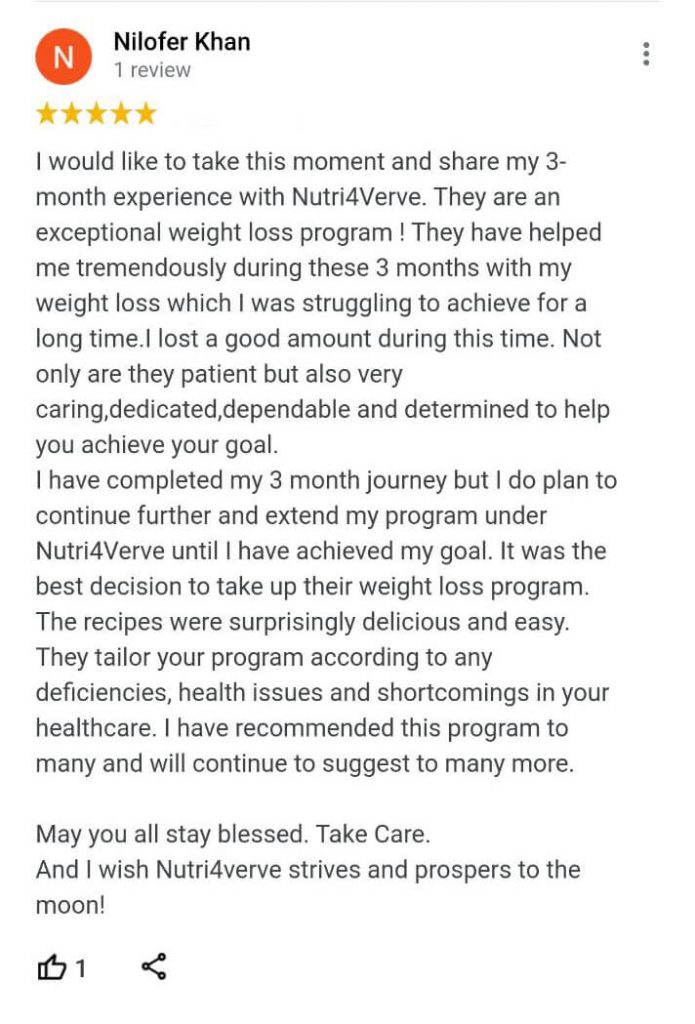 ** Disclaimer: All above testimonial notes are inputs from respective Clients and are placed as it is.. The results are based on their specific diet plans whose results differ from person to person.
Questions in your mind..
Have an informal chat with our expert Nutritionists on WhatsApp or Personal Call..
Sign Up For a Free 1-on-1 Discovery Call on Phone with our Best Dieticians for Weight Loss 
to discuss your Health Challenges & Goals 
Just drop in your details & we shall get back to you later at your preferred time..