Best Dietician in Pune India
Lose Weight with Dietician in Pune
You might have thought about speaking with a nutritionist or dietician in Pune if you're trying to reduce weight. We encourage you to consider if you actually require the assistance of a diet expert to lose weight in this day and age of body positivism on social media platforms like Instagram. We next discuss the value of these professionals, including whether it is preferable to work on your own weight loss or to see a dietician or nutritionist. So choose your best dietician in Pune wisely.
Dietician or Nutritionist in Pune - Whats the role?
Importantly, you should be aware that a nutritionist is not a doctor. 
Indeed, the primary responsibility of a nutritionist dietician is to assist their patients in selecting the diet that will best help them reach their objectives, such as weight loss, therapeutic or general health improvement.
Also, dietary principles are straightforward: have a balanced diet without food deprivation. 
Thus, the great advantage of calling on the expertise of a dietitian lies in the personalised support offered by the latter.
You are what you eat - The advantages of being accompanied by a dietitian in Pune
Truly, being accompanied by a dietician or a diet expert offers you many advantages:
Firstly,

Safe weight loss

 : not all slimming programs or tips are 100% reliable. Consulting a food and nutrition specialist allows you to 

lose weight gradually

 , without compromising your state of health.

Secondly, Personalised follow–up: whatever your nutritional status, lifestyle, the dietician is able to offer you the 

tailor-made diet

 best suited to you. Indeed, vis-à-vis your food profile that he studies as the consultations progress, it offers you very effective 

personalised advice

 to promote your weight loss.

Additionally, Gradual change in habits: in reality, no one will ever be able to lose weight with bad eating habits and an unhealthy lifestyle. By getting help from a diet coach, you will be able to change this and 

gradually adopt better habits

 (healthy and balanced diet, regular physical activity, etc.).

Next,

Eating with pleasure

 and 

without any food deprivation or restriction 

:

 most diets or weight loss methods have this constraint of cognitive restriction. With your diet coach, the dietician or nutritionist, you can eat anything, on one condition: that you eat in a reasonable way.

Also, Satisfactory and lasting results: a nutrition and food expert guarantees you

effective weight loss

 and above all 

in the long term

 . After the first session with the dietitian, the frequency of subsequent consultations will depend on your availability and your needs.

Besides,

Better state of health

 : who says healthy food says better health, and it is favorable as well for the body as the spirit.

Finally,

Better self-esteem

 : when you manage to maintain a stable weight thanks to the advice and tips of your diet coach, you are more confident and will develop better self-esteem.
Why should you go to a nutritionist in Pune?
Find the diet that suits you and makes you feel good..!
Indeed, the dietitian can be of great help to many people. Whether it is to lose weight, choose your food or even balance your nutrient intake, the dietician will be able to guide you. Moreover, Weight loss and the development of a personalised diet, especially during therapeutic requirements, pregnancy, are the main reasons for consultation with a dietitian. But, it can also simply be an advisor to help you eat better and eat smarter.
The role of the dietitian in Pune for weight loss 
To help overweight patients, the dietitian first carries out a dietary assessment . Further, this first step helps him to better understand their eating habits, to identify the causes of their overweight and to know their constraints. Additionally, it also studies their behaviour towards food and establishes a culinary profile . Also, a dietician is particularly interested in the psychology of his patients. Motivation and determination are the essential bases for lasting weight loss.
The dietitian to help you eat better
Truly, the dietician intervenes regularly to advise and relearn how to eat well . Thanks to his nutritional advice, he directs his patients towards a balanced and varied diet. Moreover, the dietitian recalls the basics of a balanced diet and provides practical advice to put in place on a daily basis.
Why consult an top dietician in Pune?
You can consult a nutritionist in office or by online consultation for many reasons. Firstly, the nutritionist can assess your nutritional status, make a diagnosis and establish an intervention strategy aimed at restoring and improving your state of health. Secondly, she can therefore be consulted for weight problems, digestive problems or even food intolerance.
Infact, the nutritionist most often deals with more serious pathologies such as cardiovascular or metabolic diseases (cholesterol disease, thyroid disorder, diabetes, etc.), or even patients undergoing treatment for cancer with eating disorders. These pathologies most often require follow-up with a prescription for medication or a blood test.
She can help you with:
Firstly, help you better control your diabetes ;
Also, reduce your digestive disorders ;
improve your cardiovascular health;
help you control your weight , especially if you are a woman, during the different cycles of your life (pregnancy, menopause, after pregnancy, etc.);
treating an eating disorder ;
provide sports nutrition advice ;
help you with your food allergies and intolerances ;
help you maintain a healthy nutritional balance, even if you change your diet (e.g. you become vegetarian or vegan);
treat chronic inflammation through diet;
Finally, accompany you and help you manage your diet in connection with health problems (anemia, thyroid disease, osteoporosis, etc.).
How much a dietician in Pune charge ?
Usually, A nutritionist in Pune typically charge by the visit, or for monthly, quarterly, six-month, or annual diet plans. As a result, nutritional advice is charged on an hourly or monthly basis.
Next, the cost varies depending on the provider's credentials and the diet consultancy's scope. For instance, a dietary consultation often takes place over the course of 3 to 10 meetings.
In Pune, nutritionists often charge between Rs. 500 and Rs. 10,000 per appointment. The typical monthly fee for a dietician in Pune is between Rs. 1500 and Rs. 50000.
Indeed, the first interview normally takes a little longer because a thorough investigation of the problem is involved. Subsequently, the following counselling sessions are typically shorter and more concentrated on the status quo.
Accordingly, to these general specifications, an individual consultation in the form of an initial discussion should last at least 60 minutes. There are also flat rates for any costs incurred for measuring body composition etc.
Of course, the charges for the nutritionists vary depending on education, specialisation and experience. The costs can also vary in the different regions and cities of Maharashtra. 
Why consult a good nutritionist in Pune for weight loss?
Because, occasionally we worry more about our weight
Second, we are sick of diets that require us to restart each time and gained back lost weight.
Furthermore, our body rhythm or body clock prevents us from balancing our meals.
Due to our decision to stop smoking and our concern over gaining weight
Due to our pregnancy, we are no longer able to choose the right food OR  recently gave birth, and we don't want to continue in post pregnancy weight gain.
The fact that we have kids who are too choosy in their eating habits, and we want to feed them the best nutritious meals  we can.
Because we are unable to eat everything that way due to a condition or allergy or tolerances.
finally, it's difficult to make the proper decisions on your own, what to eat and what not to eat..
Will you receive your personal nutrition plan for weight loss by the nutritionist in Pune?
A nutritional plan in Pune must fit the person and their ideas and requirements as well as their symptoms, it must provide all the nutrients and vital substances, it must fill you up and it must taste good.
The dishes must also be able to be prepared in the time available to the person concerned.
It would therefore not appeal to you if you received complex recipes from your nutritionist in Pune and didn't have the time or nerves for them – no matter how healthy the dishes may be.
Of course, you wouldn't feel particularly taken seriously either. It gets complicated when a nutrition plan has to be drawn up for intolerances, allergies or intestinal diseases – possibly in combination with personal wishes in terms of diet (low carb, vegan, high carb, FODMAP or whatever).
High-quality nutritional advice will therefore be of great help and relief on the way to optimal nutrition.
At Nutri4Verve, all the dieticians and nutritionists purposely keep in mind all of the above, before your diet program is designed.
How can I find the top nutritionist in Pune for weight loss ?
You may, of course, contact your doctor for recommendations on nutritionists or just search online to locate the best dietician in your area. The internet can be searched as well.
The patient is first asked about his dietary habits, medical history, family history, and any potential ailments by the nutritionist.
She might have to pay close attention while taking careful measurements. After that, she can recommend more testing, such blood tests, to clarify the diagnosis. The patient is then informed of the diet therapy plan that will be implemented, which may include a diet to follow, the use of medicine, physical activity, etc.
In order to track patients' long-term development, it may also be planned to schedule a series of appointments for a nutritional follow-up. For the personalised diets to be successful, regular monitoring is frequently required.
Therefore, pick a dietician or nutritionist who is most suited for you and not just one who is close by.
Also, you can lose weight from the comfort of your home with the assistance of technology, an effective diet app for your smartphone, alongwith committed nutritionist support. The day when visits were necessary is long gone.
In what way can I connect with the best dietician in Pune?
It is your personal preference. So choose a dietician with whom you can connect personally, who can motivate you through the entire weight loss journey. Speak with the dietician before you start your diet program. Discuss your personal requirements, eating habits, daily routine, your medical ailments, if any. 
Besides, Understand the ideology and diet strategies which the dietician will choose for you, and ask why it is perfect for you. Ask for diet plans delivery, and how support will be given in case of any queries or explanations. 
If you are looking for a holistic nutritionist, you have reached the right place.!! We excel in online diet programs for weight loss and other therapeutic diets including diabetes, cholesterol, high blood pressure, pregnancy, PCOS/ PCOD, fertility and many more. Please checkout to all our Diet Programs.
At Nutri4Verve, You can Connect Now on Call or just connect for  an informal chat with our expert Dieticians & Nutritionists on WhatsApp
Importantly, You can also Try our Nutri4Verve APP for Free from Google PlayStore or Apple App Store for its amazing features.
Advantages of consulting a Dietician in Pune Online
Today, online diet consultation with a dietician or diet specialist is more and more common. Indeed, nutritionist consultations are not an exception to this.. Do you hesitate or are reluctant to move ahead in this manner? Here are a few benefits:
The level of service quality is constant. As in a face-to-face consultation, the nutritionist gives you individualised and personal advice and, if necessary, shares the supporting documents with you. 
Also, it's possible that you've already attempted restrictive diets on your own and they weren't successful. A dietician or nutritionist has the advantage of being able to provide you with a customised eating plan and give you the information you need to carry out a food rebalance that will be able to last over time, in accordance with the goals you have set for yourself.
Now, with the advent of new technologies, we can now accomplish tasks without physically moving. Similarly, the same outcomes as an in-person session can then be achieved through a remote or online consultation with the nutritionist or dietitian in Pune of your choice.
Healthy weight loss - The Personalized concept at NUTRI4VERVE
Lose your weight naturally. With the help of our  professional nutritional advice by experienced dieticians, you will reach your desired weight. A key factor in weight loss, in addition to sport and exercise, is proper and healthy nutrition. Feel comfortable in your body again.
Our nutrition experts will help you lose weight and integrate a healthy and balanced diet into your everyday life. You often don't have to do without your favourite foods.
Learn to pay attention to your energy intake and the foods you eat (vegetables, fish, meat, snacks, sugar, fat, carbohydrates, fiber). Nationwide and internationally, we support you with professional nutritional advice on losing weight.
Further, Our recommendations are  individually tailored to you and your personal requirements. Break with your routine step by step and achieve a better body feeling and well-being. Lose weight naturally without diet pills. 
Lose your pounds with professional guidance. We will create an individual meal plan (diet plan) especially for you – no copy paste stuff.!
Our experienced and certified diet specialists ensure long-term success.
Interesting Facts on Instagram page
Famous Top 5 Dieticians (Best Nutritionist) Online in Pune -
1 - Dietician Shivani Sikri - Best Indian Dietician Online
Shivani Sikri is an internationally renowned award-winning dietician, nutritionist, columnist, blogger, and nutrigenomics counsellor.
Dietician Shivani is best known as the co-founder of Nutri4Verve, her online clinic where she provides customised dietary and nutrition guidance to her clients. Sikri has been honoured with several accolades, including the Best Dietitian in Delhi and the Sattva Iconic Wellness Award 2021. You can surely contact the best nutritionist for weight loss in India and across the globe.
After completing her Masters, Shivani Sikri further attained her POST GRADUATE DIPLOMA IN PUBLIC HEALTH AND NUTRITION (PGDPHN). Additionally, she also completed her POST GRADUATE DIPLOMA IN NUTRITION & CLINICAL DIETETICS. 
To further enhance her knowledge and skill-set as a Nutritionist in the field, she had accomplished several Professional Certificates pertaining to – "Modern Lifestyle Diseases – Awareness and Prevention", "Alcohol and its effects on health" and "HIV-AIDS – Awareness and Prevention". 
Additionally, Shivani has also completed specialised Extension Online Certificates from Texas A&M, USA in the subjects – Healthy eaters: Infant and Toddler Nutrition in Child Care – and Osteoporosis 
She has also excelled in her Advance Course in "Nutrigenomics for Professionals in Nutrition" USA.
Shivani Sikri is also a Certified Naturopath.
WEBSITE : https://nutri4verve.com/
Contact : +91-8800339577
Email : [email protected]
SOURCE: WIKITIA
2 - Dietician Dr. Nafeesa Imteyaz
In Pune, she is well-known as a nutritionist. For every health issue, Dr. Nafeesa has a remedy. In her field, she has 20 years of expertise. You can schedule a consultation with her. She was also associated to the UAE government's ministry of health division.
Address – Firts Eat Right clinic, Regus,6th Floor Pentagon P-2, Magarpatta City, Landmark: Regus Pune
3 - Diet Expert Dr. Namrate Anand
She is a reputable and well-known nutrition consultant who has been in the industry for a while. Ms. Ananad is a homoeopathic doctor who also holds a certificate in nutrition and wellness. Currently, she is employed by Pimple Saudagar's Pulsitela Health Clinic.
Address – Pulsetila Health Clinic, Pimple Saudagar, Landmark: Near Govind Garden & Opp.Palm Breeze, Pune.
A well-known nutritionist in Pune is Dr. Bump. She offers counselling and direction on diet for those looking to lose weight, gain weight, or manage chronic illnesses. She has more than 11 years of experience. Also she currently works at the renowned Pune clinic Mediexpress. Moreover, she is available for consultation on Mondays, Wednesdays, and Saturdays at Salunke Vihar.
Address – Medixpress Super Speciality Clinic, 101/102, Girme Towers, Next to HDFC Bank, Opposite to Kotak Mahindra Bank, Salunkhe Vihar Road
5 - Dr. Ms. Avanti Deshpande
Indeed, nutritionist in Pune with 14 years of expertise is Avanti Deshpande. She graduated from SNDT Mumbai with a Post Graduate in Food Science and Nutrition. Also, She is available for consultation on Wednesdays, Fridays, and Saturdays at the Deccan Gymkhana clinic.
Address – Avanti Deshpande Health & Nutrition Expert, 33/41, 1st Floor, Vaibhav Chamber, Karve Road, Landmark: Near Garware College, Pune
Client Testinonials at Nutri4Verve
What Our Clients say for our Dieticians & Nutritionists 
Video Testimonial from Ms. Mahima C.
Video Testimonial from Ms. Anjali S.
Video Testimonial from Ms. Nandini K.
Testimonial from Ms. Suranjana M.
What Our Clients say for our
Dieticians & Nutritionists on Google.
Real Words, Real Pride.!! 
Gaurav T., 🇺🇸 USA,  Lost 15 kgs in 3 months says-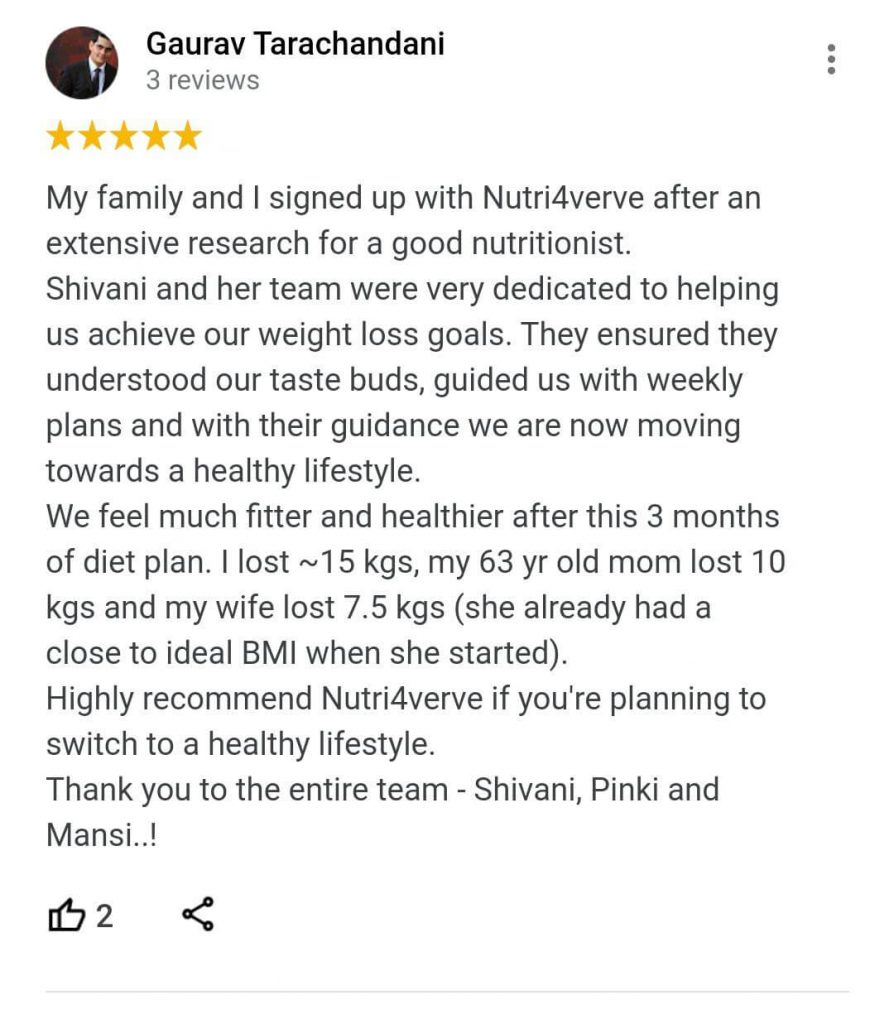 Ashwin G., 🇬🇧 UK, Lost 18 kgs in 3 months says-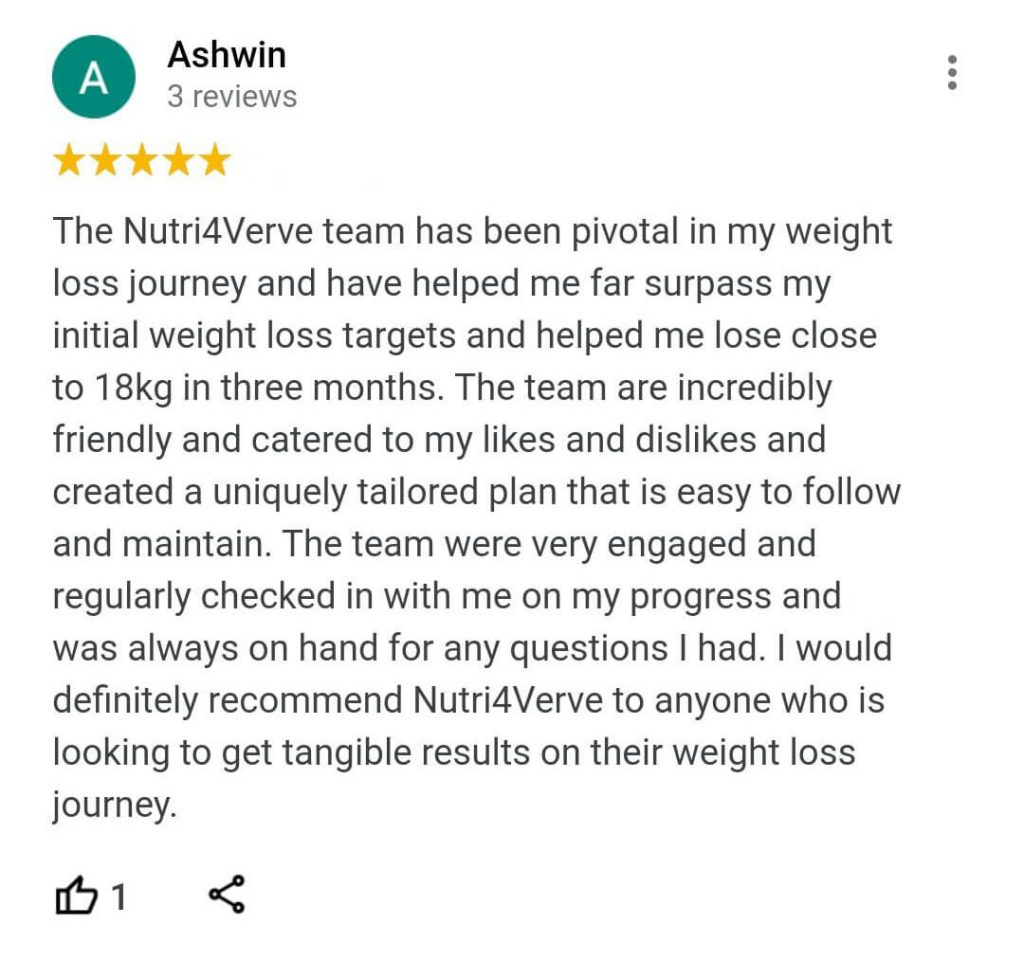 Siddhartha A., 🇸🇬 Singapore, Lost 15 kgs in 3 months says-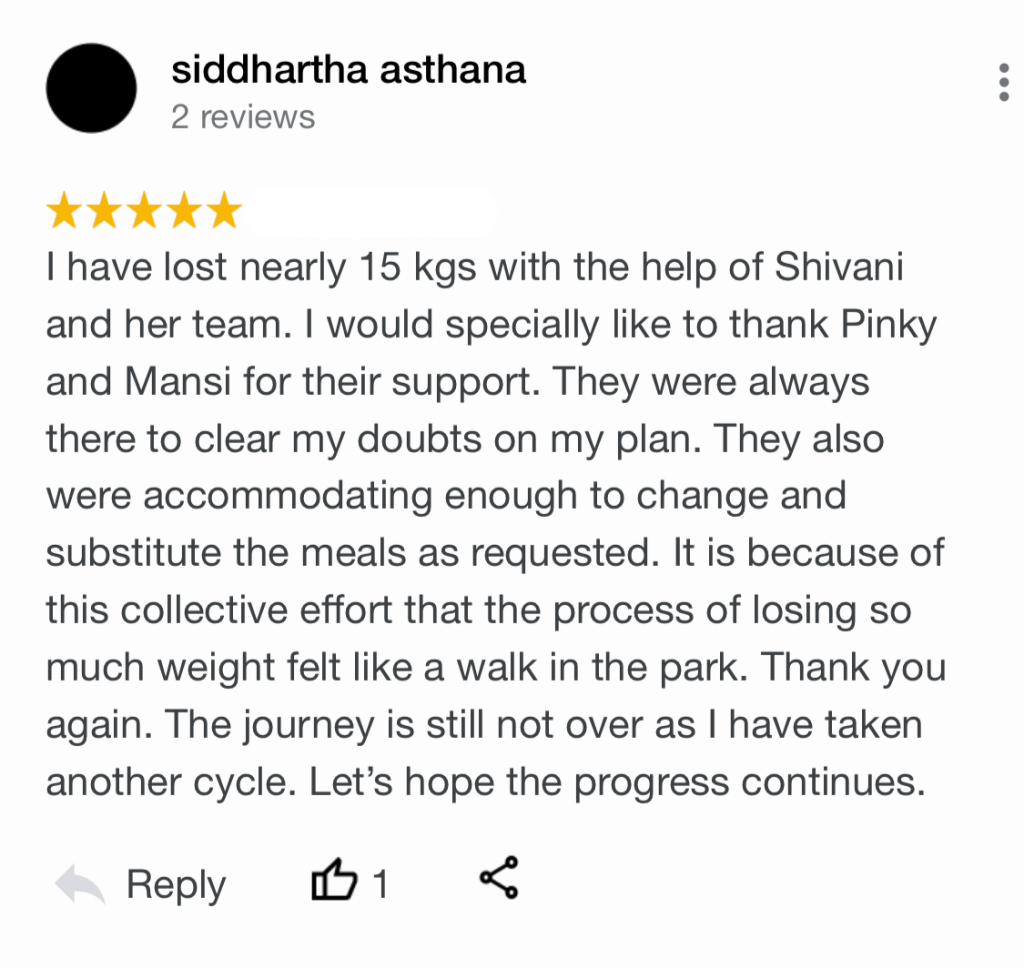 Nandhini R., 🇨🇦 Canada,  Gut Health Management, Lost 8 kgs in 3 months says –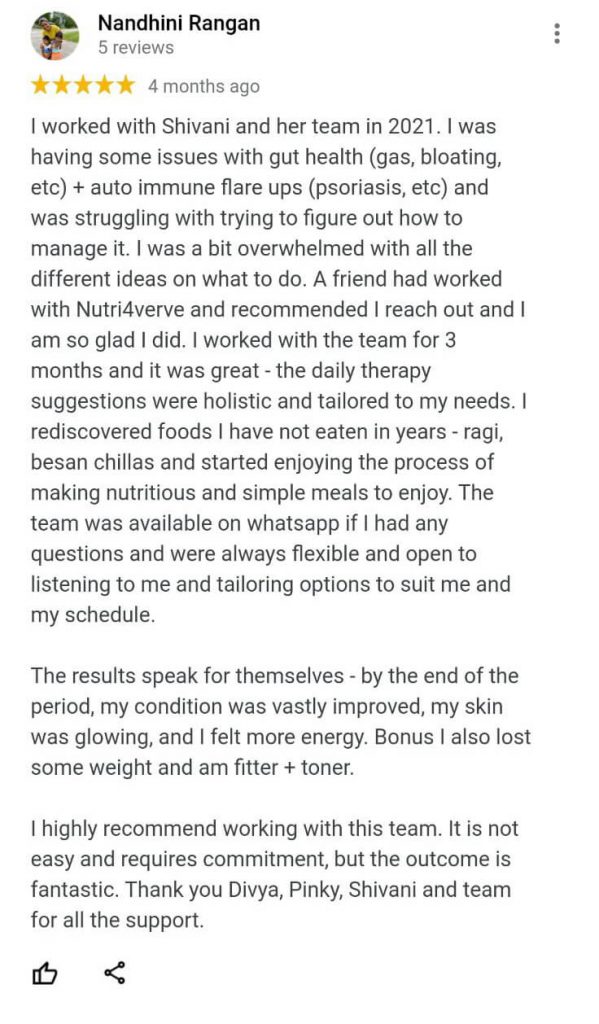 Anurag S., 🇮🇳 Noida, Lost 21 kgs in 6 months says-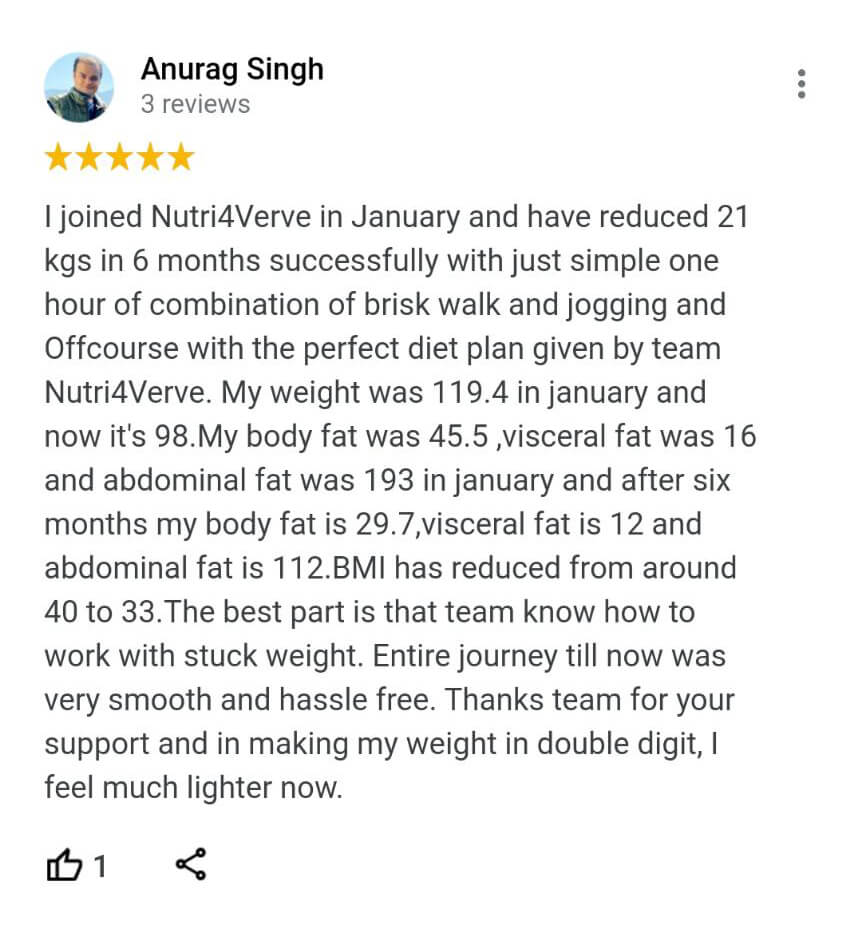 Nilofer K., 🇸🇦 Saudi Arabia, Lost 10 kgs in 3 months says –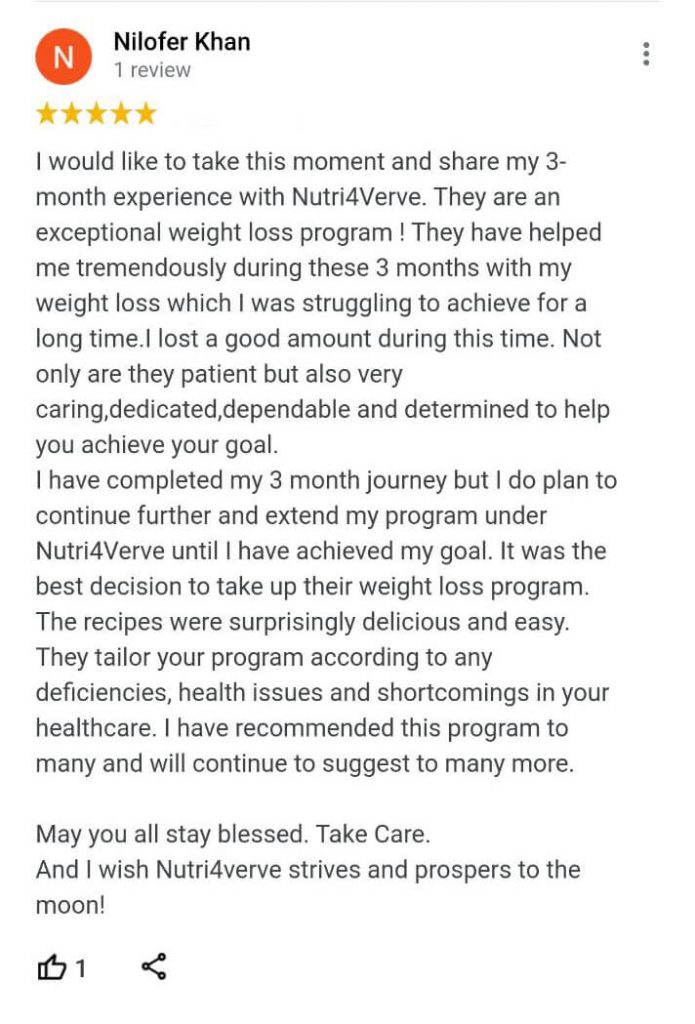 ** Disclaimer: All above testimonial notes are inputs from respective Clients and are placed as it is.. The results are based on their specific diet plans whose results differ from person to person.
Questions in your mind..
Have an informal chat with our expert Nutritionists on WhatsApp or Personal Call..
Sign Up For a Free 1-on-1 Discovery Call on Phone with our Best Dieticians for Weight Loss 
to discuss your Health Challenges & Goals 
Just drop in your details & we shall get back to you later at your preferred time..