Best Dietician in Mumbai India
Lose Weight with Dietician in Mumbai
Nutritional advice by a dietician can help people who are overweight or underweight to change their diet. It makes it easier to lose weight and on the one hand helps to achieve normal weight and then to keep it permanently. So choose your best dietician in Mumbai
For everyone! Whether you are a man or a woman, whatever your age and your lifestyle… Whether you want to lose weight, get in shape, stay healthy…
Each stage of life has specific nutritional needs. For everyone, a balanced, varied diet that covers these needs is fundamental to health and well-being.
Indeed, the problem and the objectives will not be the same depending on the reason for which you consult. We determine what your body needs and together we will find the rhythm that suits you…
You are what you eat - the most important facts about a Nutritionist Dietician in Mumbai
Understand how your body works to better appropriate it and make it your ally.
Learn to identify your food sensations, decipher your emotional relationship to food to adapt your behaviour.
Next, Learn to manage situations and make the right food choices, at home, at the office, in restaurants.
Play down certain foods and rediscover the pleasure of eating with ease, without unnecessary restrictions or guilt.
Further, Lose weight at your own pace, without fatigue, by eating what you like and without even thinking about it.
Meanwhile, here's everything you need to know about nutritional advice by best nutritionist in India..
When should you go to a nutritionist in Mumbai?
Find the diet that suits you and makes you feel good..!
OVERWEIGHT : Recent or old weight gain, difficulties in stabilising weight (yo-yo effect), eating behaviour (cravings, snacking, compulsions, etc.), loss of food sensations, etc.
EATING BEHAVIOUR DISORDERS : Restrictive anorexia, anorexia-bulimia, bulimia, hyperphagia, restriction of food choices, food compulsions, NES Night Eating Syndrome
THERAPEUTIC NUTRITION : Some pathologies require nutritional support and an adapted diet. Thus, Whether to prevent the onset of the disease or in addition to drug treatment. Accordingly, Your diet is prescribed by your diet expert to keep you healthy and to avoid complications. Moreover, your Dietician-Nutritionist will explain it to you in detail and help you implement it on a daily basis.
FOOD INTOLERANCE : Celiac disease, gluten intolerance, cow's milk protein intolerance (IPLV) in children or adults, lactose intolerance (lactase deficiency)…
VEGETARIAN / VEGAN : Cover your protein needs with a vegetarian, vegan or vegan diet. Specificities of these diets during pregnancy and in young children. Also, cover your calcium needs with a typical dairy-free diet.
Who needs nutritional advice by an expert dietician in Mumbai — who doesn't?
Do you feel that you are not eating properly and your body is feeling it?
This health professional helps you balance your daily diet and sheds light on how to eat healthier .
Nutritionist begins by establishing a precise diagnosis of your eating habits, but also of your family situation, your professional situation, your lifestyle and your state of health to advise you as closely as possible to your reality.
The first reason for contacting a nutritionist is of course being overweight.
Whether you only have a few pounds to lose or your situation tends towards obesity , the nutritionist can provide you with a solution.
Moreover, after studying your current daily life, the reasons that led you to this state and the goal you want to achieve, he will establish an action plan.
Thus, from the personalised diet to the sports program that accompanies it, the nutritionist is a professional who knows the mechanisms of food, the body and health.
What does a nutritionist do?
The main task of a nutritionist is to analyse, improve or, in the best case, optimize the eating habits of customers. It may vary from case to case. So, the basis is always the initial situation and the goal to be achieved. 
Diet expert, a food specialist, is your privileged interlocutor in the prevention, detection and management of nutrition-related diseases such as diabetes, obesity and overweight , as well as in the detection of food intolerances .
Additionally, it is also involved in the treatment of eating disorders. Her precise knowledge of foods, their composition and their effects on health, allows him to provide advice and establish nutritional programs adapted to the needs of patients.
Finally, a nutritionist takes your medical and surgical history into account and can request additional examinations if necessary.
How much a nutritionist charge in Mumbai ?
Normally, a Nutritionist in Mumbai charge on the basis on per visit or monthly/3 months/6 months /1 year diet programs. So the nutritional advice is billed per hour or monthly basis. 
Amount varies depending on the provider, qualification and scope of the diet consultancy. For instance, a nutritional consultation usually consists of around 3-10 appointments. 
Average fees or cost for nutritionist in Mumbai is between Rs. 500/- to Rs. 20000/- per visit. The average cost or fees of a dietician in Mumbai is Rs. 1500/- to Rs. 60000/- per month. 
One's initial interview usually requires a little more time, as it involves a complete analysis of the situation. Subsequent counselling sessions are usually shorter and more focused on the current status quo.
Accordingly, to these general specifications, an individual consultation in the form of an initial discussion should last at least 60 minutes There are also flat rates for any costs incurred for measuring body composition etc.
Of course, the charges for the nutritionists vary depending on education, specialisation and experience. The costs can also vary in the different regions and cities of Maharashtra. 
Why consult a good nutritionist for weight loss?
Because at times we feel more concerned about our weight
Secondly, We are tired of diets where we start again every time
Additionally, we have such a rhythm that we can't balance our meals
Because we quit smoking and we are afraid of gaining weight
We are pregnant and we can no longer afford to eat anything
Afterwards, we just gave birth and we don't want to stay like this
Subsequently, we have children and we want to provide them with the best food possible
Because, we have an illness or an allergy and we can't eat everything like that 'Cause it's not easy, on your own, to know how to make the right choices
Will you receive your personal nutrition plan for weight loss by the nutritionist?
A nutritional plan in Mumbai must fit the person and their ideas and requirements as well as their symptoms, it must provide all the nutrients and vital substances, it must fill you up and it must taste good.
The dishes must also be able to be prepared in the time available to the person concerned.
It would therefore not appeal to you if you received complex recipes from your nutritionist and didn't have the time or nerves for them – no matter how healthy the dishes may be.
Of course, you wouldn't feel particularly taken seriously either. It gets complicated when a nutrition plan has to be drawn up for intolerances, allergies or intestinal diseases – possibly in combination with personal wishes in terms of diet (low carb, vegan, high carb, FODMAP or whatever).
High-quality nutritional advice will therefore be of great help and relief on the way to optimal nutrition.
At Nutri4Verve, all the dieticians and nutritionists purposely keep in mind all of the above, before your diet program is designed.
How can I find the right nutritionist for weight loss in Mumbai ?
You can, of course, ask your doctor which nutritionists he recommends or simply google around to find the best dietician near me. You can also search the internet.
The nutritionist first takes the time to question the patient about his eating habits, his medical file, his history, his possible pathology. 
She may have to listen to it and take precise measurements. Next, she can also prescribe additional tests, such as blood tests, to refine his diagnosis. subsequently, she explains and informs the patient of the therapeutic strategy to be put in place: it may be a diet to follow, taking medication , exercises to do, etc. 
Furthermore, a dietary follow-up involving several appointments may also be planned in order to be able to monitor the progress of patients over the long term. Regular monitoring is often essential for the adapted diets to be effective.
Thus, Choose a nutritionist or a dietician that is best suited for you and not just nearly to your place.
Technology along with successful diet APP on your mobile with dedicated support from the nutritionist can help you lose weight from comfort of your home. Gone are the days where visits were required. 
In what way can I connect with the right nutritionist in Mumbai ?
It is your personal preference. So choose a dietician with whom you can connect personally, who can motivate you through the entire weight loss journey. Speak with the dietician before you start your diet program. Discuss your personal requirements, eating habits, daily routine, your medical ailments, if any. 
Besides, Understand the ideology and diet strategies which the dietician will choose for you, and ask why it is perfect for you. Ask for diet plans delivery, and how support will be given in case of any queries or explanations. 
If you are looking for a holistic nutritionist, you have reached the right place.!! We excel in online diet programs for weight loss and other therapeutic diets including diabetes, cholesterol, high blood pressure, pregnancy, PCOS/ PCOD, fertility and many more. Please checkout to all our Diet Programs.
At Nutri4Verve, You can Connect Now on Call or just connect for  an informal chat with our expert Dieticians & Nutritionists on WhatsApp
Importantly, You can also Try our Nutri4Verve APP for Free from Google PlayStore or Apple App Store for its amazing features.
Advantages of consulting a Dietician in Mumbai Online
The best part is, you don't have to make visits or travel to the Clinic every time for a Diet Plan. You simply have to connect through APP, go Online and start.
Get the comfort and convenience of the diet services at your home.
Your privacy is intact and your information is maintained that is always kept safe and secure
Additionally, Online diet consultation is a very practical option. When you connect to an online dietician about your symptoms, your history is conveniently saved online for future reference, so you don't have to spend time answering the same questions over and over.
The support is available as and when you need it.
It is cost effective as communication is quick and direct.
 
Healthy weight loss - The Personalized concept at NUTRI4VERVE
Lose your weight naturally. With the help of our  professional nutritional advice by experienced dieticians, you will reach your desired weight. A key factor in weight loss, in addition to sport and exercise, is proper and healthy nutrition. Feel comfortable in your body again.
Our nutrition experts will help you lose weight and integrate a healthy and balanced diet into your everyday life. You often don't have to do without your favourite foods.
Learn to pay attention to your energy intake and the foods you eat (vegetables, fish, meat, snacks, sugar, fat, carbohydrates, fiber). Nationwide and internationally, we support you with professional nutritional advice on losing weight.
Further, Our recommendations are  individually tailored to you and your personal requirements. Break with your routine step by step and achieve a better body feeling and well-being. Lose weight naturally without diet pills. 
Lose your pounds with professional guidance. We will create an individual meal plan (diet plan) especially for you – no copy paste stuff.!
Our experienced and certified diet specialists ensure long-term success.
Interesting Facts on Instagram page
Famous Top 5 Dieticians (Best Nutritionist) Online in Mumbai -
1 - Dietician Shivani Sikri - Best Indian Dietician Online
Shivani Sikri is an internationally renowned award-winning dietician, nutritionist, columnist, blogger, and nutrigenomics counsellor.
Dietician Shivani is best known as the co-founder of Nutri4Verve, her online clinic where she provides customised dietary and nutrition guidance to her clients. Sikri has been honoured with several accolades, including the Best Dietitian in Delhi and the Sattva Iconic Wellness Award 2021. You can surely contact the best nutritionist for weight loss in India and across the globe.
After completing her Masters, Shivani Sikri further attained her POST GRADUATE DIPLOMA IN PUBLIC HEALTH AND NUTRITION (PGDPHN). Additionally, she also completed her POST GRADUATE DIPLOMA IN NUTRITION & CLINICAL DIETETICS. 
To further enhance her knowledge and skill-set as a Nutritionist in the field, she had accomplished several Professional Certificates pertaining to – "Modern Lifestyle Diseases – Awareness and Prevention", "Alcohol and its effects on health" and "HIV-AIDS – Awareness and Prevention". 
Additionally, Shivani has also completed specialised Extension Online Certificates from Texas A&M, USA in the subjects – Healthy eaters: Infant and Toddler Nutrition in Child Care – and Osteoporosis 
She has also excelled in her Advance Course in "Nutrigenomics for Professionals in Nutrition" USA.
Shivani Sikri is also a Certified Naturopath.
WEBSITE : https://nutri4verve.com/
Contact : +91-8800339577
Email : [email protected]
SOURCE: WIKITIA
2 - Dietician Ms. Shweta Sharma
About a decade back, she had 25 kilos, and with it started her journey as a diet consultant. This qualified nutritionist in Mumbai specializes in healthcare and wellness plans for children and the adolescent. She believes that her patients are most at risk from junk food, which is her sole advise to anyone suffering from weight problems. Inspiring, right?
Address: ActiveLife-Nourishing Lives, Near Police Station, Charkop, Sector 2 Charkop, Kandiwali West, Mumbai, Maharashtra 400067
3 - Diet Expert Ms. Vinita Aran
She started out as a diabetes expert, and then branched out into the field of nutrition. Her patients have always recommended her for one very simple reason; She does not ask them to stray too far away from their staple diet. Sounds amazing right? We think it does.
Address: 902, Vrindavan 3, Near Saint Xaviers School, Andheri East, Poonam Nagar, Jogeshwari East, Mumbai, Maharashtra 400093
Would you like to try Ayurveda? Then Dr. Chavan would be your best choice. Along with a BAMS degree from the Maharashtra University of Health Sciences, she is a certified Panchakarma practitioner.
Address: Sai Adhar Ayurved Center, Empress Mahal, Dadar TT, Dadar East, Mumbai
Dr.Tumbi is noted for her contribution to the Mid-Day Meal Programme, which has been instrumental in improving the health of children in villages. With over 30 years' experience in dietetics, there really is no question you ask that she cannot answer! She can be seen working miracles at the Healthwatch Nutrition Clinic in Andheri.
Address: Healthwatch Nutrition Clinic, 402, Cosmos Plaza, JP Road, 4 Bungalows, Landmark : Below DN Nagar Metro Station and Above West Side Plus, Mumbai
Client Testinonials at Nutri4Verve
What Our Clients say for our Dieticians & Nutritionists 
Video Testimonial from Ms. Mahima C.
Video Testimonial from Ms. Anjali S.
Video Testimonial from Ms. Nandini K.
Testimonial from Ms. Suranjana M.
What Our Clients say for our
Dieticians & Nutritionists on Google.
Real Words, Real Pride.!! 
Gaurav T., 🇺🇸 USA,  Lost 15 kgs in 3 months says-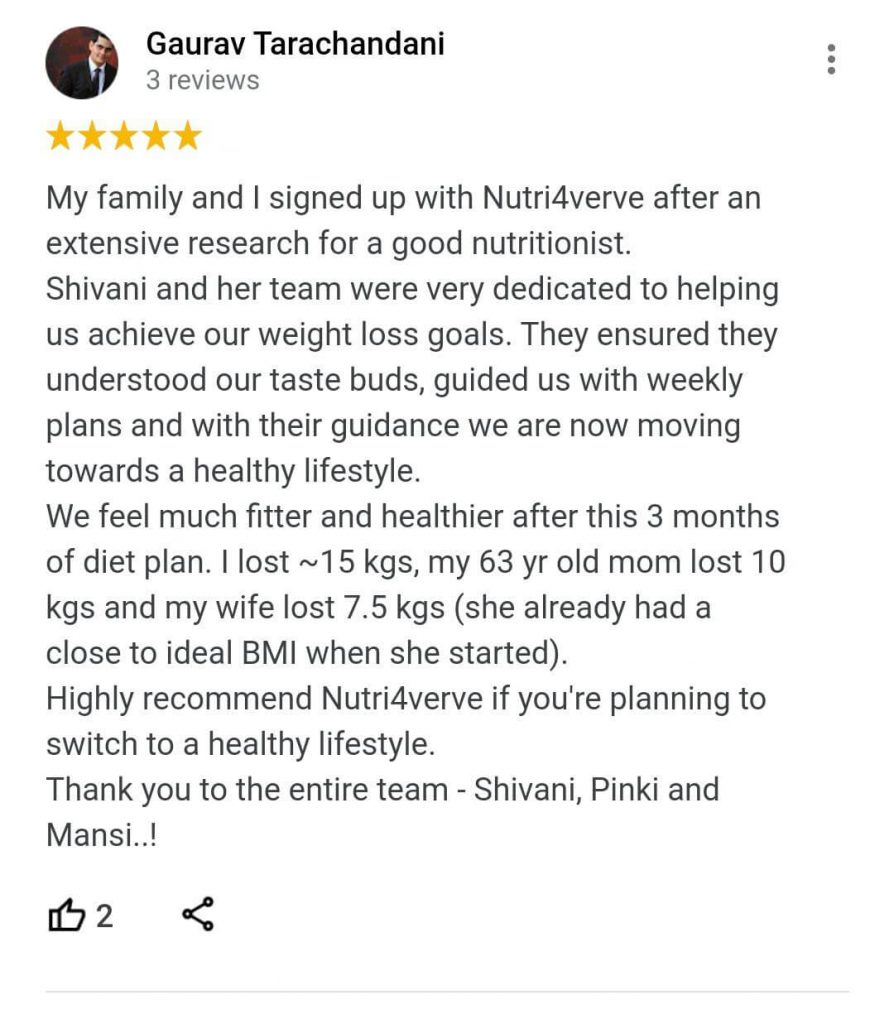 Ashwin G., 🇬🇧 UK, Lost 18 kgs in 3 months says-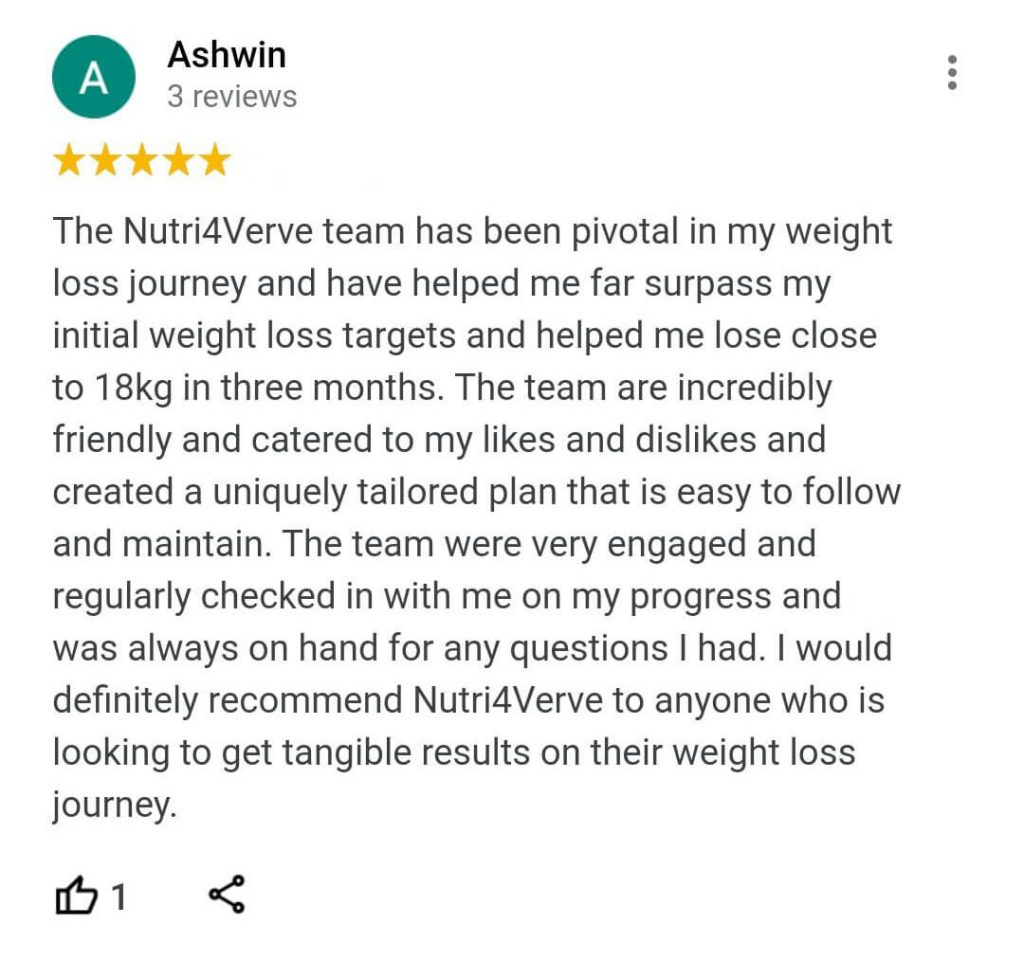 Siddhartha A., 🇸🇬 Singapore, Lost 15 kgs in 3 months says-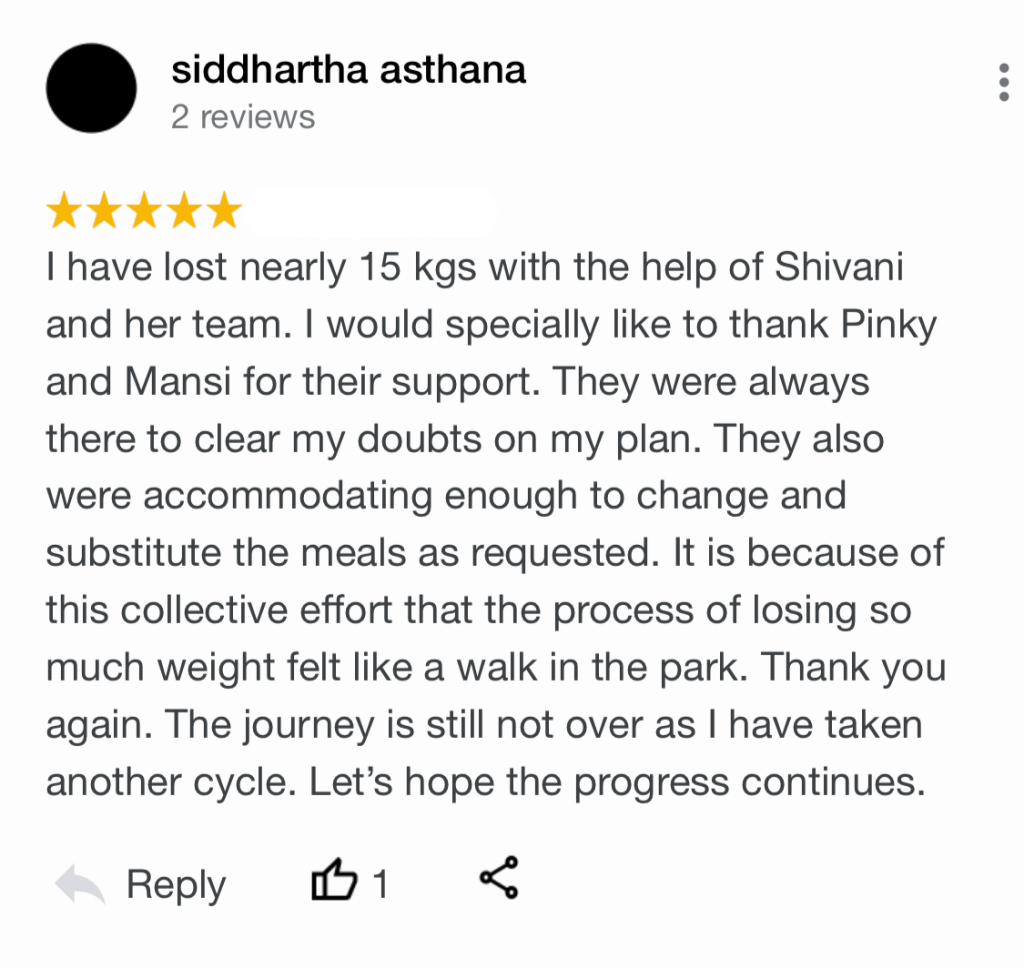 Nandhini R., 🇨🇦 Canada,  Gut Health Management, Lost 8 kgs in 3 months says –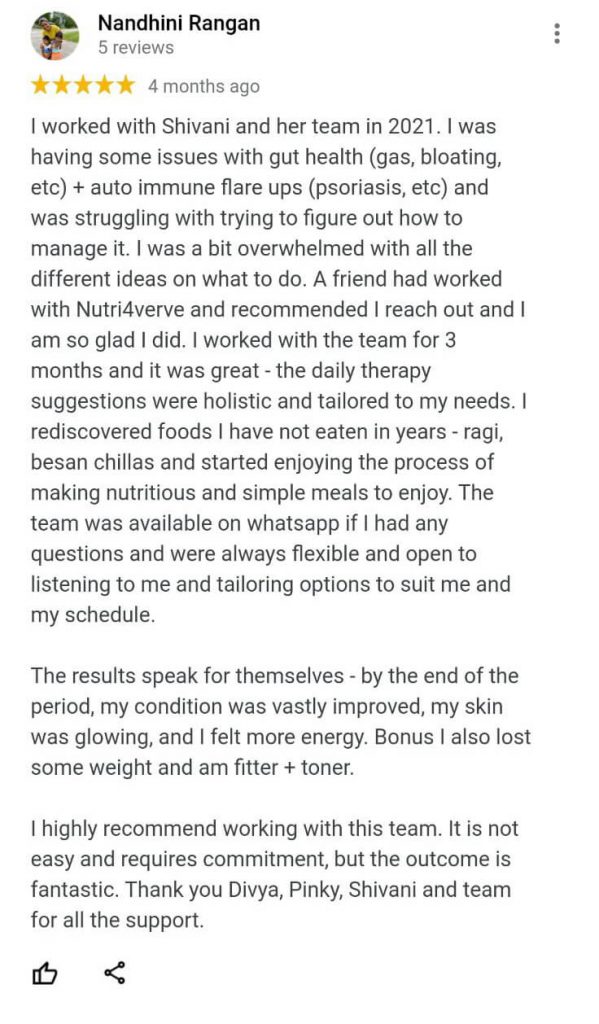 Anurag S., 🇮🇳 Noida, Lost 21 kgs in 6 months says-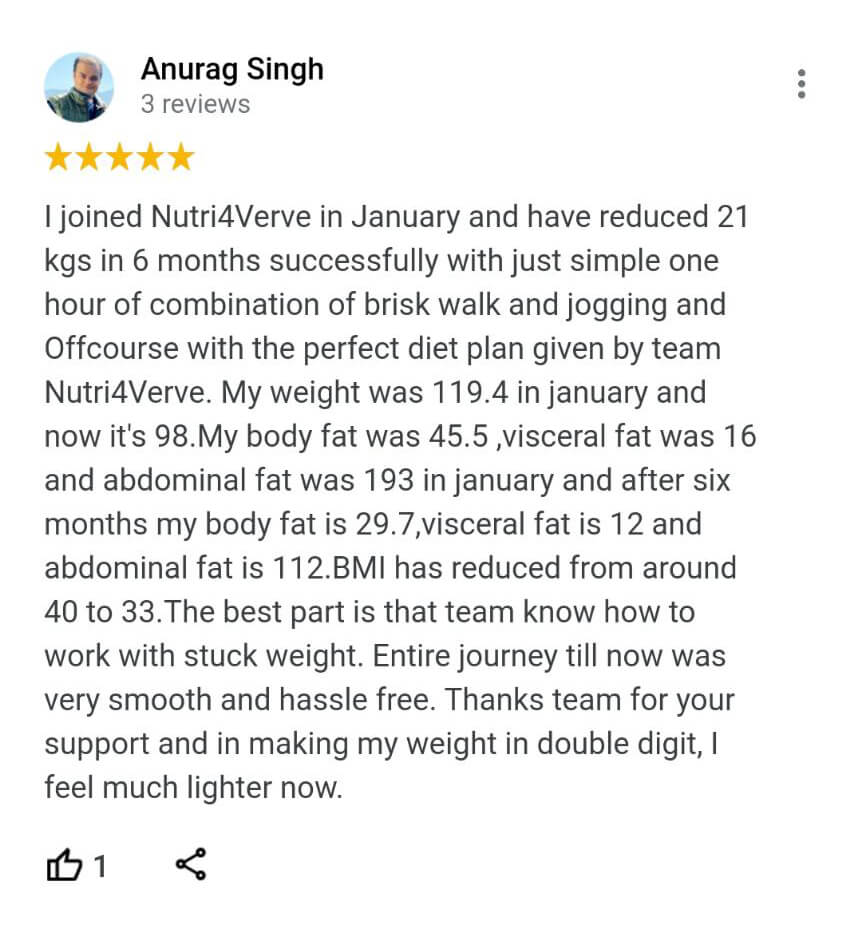 Nilofer K., 🇸🇦 Saudi Arabia, Lost 10 kgs in 3 months says –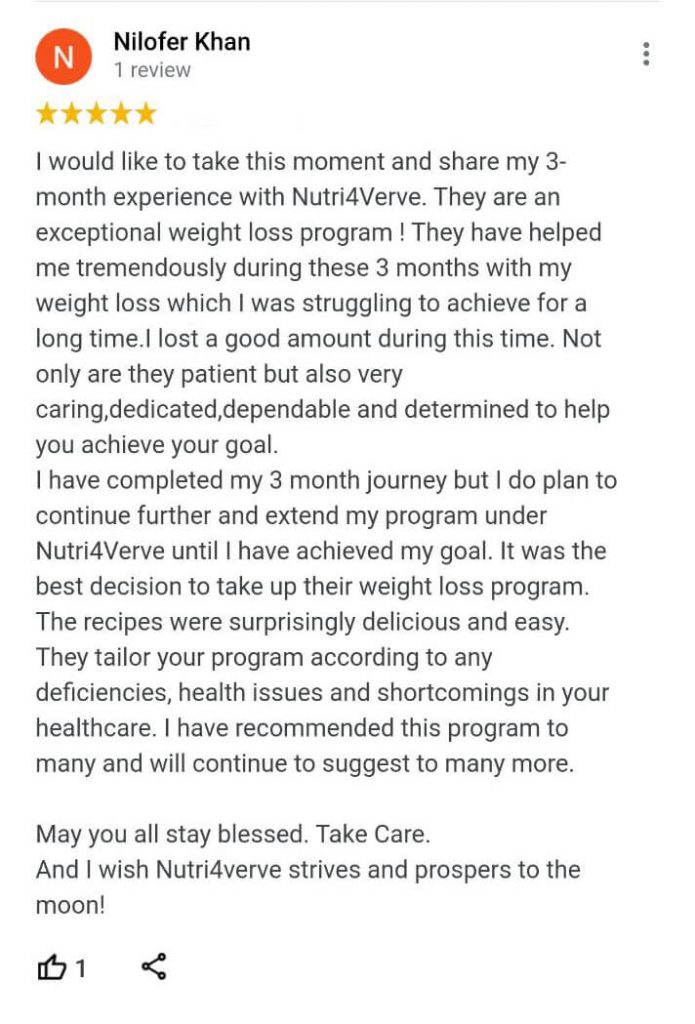 ** Disclaimer: All above testimonial notes are inputs from respective Clients and are placed as it is.. The results are based on their specific diet plans whose results differ from person to person.
Questions in your mind..
Have an informal chat with our expert Nutritionists on WhatsApp or Personal Call..
Sign Up For a Free 1-on-1 Discovery Call on Phone with our Best Dieticians for Weight Loss 
to discuss your Health Challenges & Goals 
Just drop in your details & we shall get back to you later at your preferred time..