Best Dietician in Hyderabad - Your Health & Nutrition specialist
Lose weight with Best Dietician in Hyderabad
Weight loss is a more complex stuff than we think…We have access to loads of articles & resources today.  Thanks to the internet, and we believe we know everything. So choose your best dietician in Hyderabad wisely.
Indeed, there is undoubtedly some truth, but there are also a lot of preconceived notions or quick fixes that don't work or just work temporarily. They have negative effects on your body. 
You are what you eat - the most important facts about a Nutritionist Dietician in Hyderabad
A nutritionist's expert advise on diet is always valuable. Regardless of whether you are working toward your ideal weight, therapeutic conditions, experience bodily symptoms like IBS or other stomach, or digestive conditions, allergies, or other physical issues.
Thus, Here's everything you need to know about nutritional advice by best nutritionist in India.
When should you go to a best nutritionist in Hyderabad ?
Review your eating habits, desire to lose or gain weight, eating disorder. Review the reasons for consulting a nutritionist.
A tailor-made program
Of course, your dietitian will give you basic nutritional advice such as eating fruits and vegetables. And not putting too much fat in the dishes you prepare. Nor increasing your physical activity to increase energy spend, but, rest assured, she will not upset your habits overnight.
Infact, if you are a fan of restaurants, whether for your pleasure or as part of your job, she will teach you how to choose a less caloric menu while being perfectly balanced. 
Practical advice
To consume fruit without forcing yourself too much, your dietician will teach you lots of little tips and tricks such as:
Alternatively, Drink an orange juice in the morning and a soup in the evening. Else wise, Prepare a salad of cucumbers, tomatoes and olives for lunch or dinner.
Thus, without realising it, you will have eaten in a balanced and light way, giving your body vitamins and anti-fatigue weapons.
Our advices :
Firstly, choose an easily reachable online dietitian, whom you can possibly contact for a question, a doubt. And can support you when required.
Who needs nutritional advice by an expert & top dietician in Hyderabad — who doesn't?
Take control of your diet at any age!
Naturally, one of the parents will go with the kids.
Importantly, the chance of obesity developing throughout adolescence increases if overweight is allowed to persist in early childhood.  Also, it is with the assumption that "it will get better with growth."
On the other hand, it is suitable to restore growth while reducing overweight by correcting a few dietary mistakes as soon as possible.
Thus, the first reason for contacting a nutritionist is of course being overweight.
Consequently, whether you only have a few pounds to lose or your situation tends towards obesity, the nutritionist can provide you with a solution.
Thus, from the personalised diet to the desired diet program that follows it, the nutritionist is a professional who knows the food, the body and health perfectly.
Advise for Leading dietitian in Hyderabad - Should we have a different " diet regime" depending on whether we are on vacation or working ?
Besides, the main task of a nutritionist is analyse, improve or, in the best case, optimise the eating habits of customers. Nevertheless, it may vary from case to case. Hence, the basis is always the initial situation and the goal to be achieved. 
Moreover, dietary advice will be slightly different because the conditions for taking meals are sometimes different. For Example : during work, the difficulties revolve around meals outside (business meals, meals taken on the go) or stress management which leads to nibbling.
Lastly, during the holidays, the advice will focus more on culinary learning (learning to cook healthy) or the management of convivial meals (aperitif, meals with friends, etc.).
How much a Leading Nutritionist in Hyderabad charge ?
Firstly, a nutritionist in Hyderabad typically bills by the visit, or for monthly, quarterly, six-month, or annual diet plans. Hence, nutritional guidance is therefore charged on an hourly or monthly basis.
Next, the price varies according to the provider's credentials and the breadth of the diet consultancy. Typically, a dietary consultation involves three to ten meetings.
Average fees or cost for nutritionist in Hyderabad is between Rs. 500/- to Rs. 2000/- per visit. The average cost or fees of a dietician in Hyderabad is Rs. 1500/- to Rs. 60000/- per month. 
Infact, one's initial interview usually requires a little more time, as it involves a complete analysis of the situation. Subsequent counselling sessions are usually shorter and more focused on the current status.
Accordingly, to these general specifications, an individual consultation in the form of an initial discussion should last at least 60 minutes. Also, there are also flat rates for any costs incurred for measuring body composition etc.
Of course, the charges for the nutritionists vary depending on education, specialisation and experience. Truly, the costs can also vary in the different regions and cities of Telangana. In Vijaywada, for example, the average monthly fees for nutritional advice is significantly lower than in Hyderabad.
How do I recognise a good nutritionist in Hyderabad for weight loss?
Firstly, inquire about a nutritionist's credentials, education, field of specialisation, and total experience.
Next, Priorities should be carefully examined because they may vary as much as the causes for the patient's visit. Further, another crucial element of a strong qualification is consistent continuous education.
Additionally, registered dietitians often agree not to promote or sell products.
Yet, always offer at least two alternatives to a product if it is suggested during a diet consultation. Or use materials that are free of advertising.
Will you receive your personal nutrition plan for weight loss by the best dietician in Hyderabad?
A Hyderabadi nutritional plan must be tailored to the individual, their thoughts, requirements, and symptoms. Secondly, it must also address all of the essential nutrients and substances. Moreover, it must fill you up. Most importantly, it must taste delicious.
Additionally, the meals must be able to be made in the time allotted to the person in question.
Therefore, even if your nutritionist gave you difficult recipes to prepare but you lacked the time or the nerves, you wouldn't be interested in doing so.
Naturally, you wouldn't feel like you were being taken seriously either. Drawing up a nutrition plan for intolerances, allergies, or intestinal illnesses can be challenging. Especially when combined with individual dietary preferences.
Thus, high-quality nutritional advice will therefore be of great help and relief on the way to optimal nutrition.
At Nutri4Verve, all the dieticians and nutritionists purposely keep in mind all of the above, before your diet program is designed.
How can I find the right dietician in Hyderabad for weight loss ?
Of course, you can look out the top dieticians around on Google. Or ask your doctor for recommendations on nutritionists. Internet searches are another option.
Firstly, the nutritionist first asks the patient about his dietary habits, medical history, family history, and any potential pathologies.
Secondly, she might need to pay attention to it while taking exact measurements. To further hone his findings, she can also suggest other testing, such blood tests. Subsequently, she describes and tells the patient of the therapy plan to be implemented, which may include a diet to follow, medicine to take, exercises to perform, etc.
Furthermore, a dietary follow-up involving several appointments may also be planned in order to be able to monitor the progress of patients over the long term. Also, regular monitoring is often essential for the adapted diets to be effective.
Thus, Choose a nutritionist or a dietician that is best suited for you. And not just nearly to your place…
Technology along with successful diet APP on your mobile with dedicated support from the nutritionist can help you lose weight from comfort of your home. Finally, gone are the days where visits were required. 
In what way can I connect with the perfect dietician in Hyderabad ?
Your particular preference decides. Select a dietician who you can relate to personally.  And who will inspire you throughout your entire weight loss journey.
Consult the nutritionist before beginning your diet regimen. Talk about your personal needs, eating habits, daily schedule, and any medical conditions you may have.
Additionally, ask the dietician why eating plans they have selected for you are the best ones for you. Next, ask how diet plans will be delivered. Additionally, how assistance will be provided in the event of questions.
If you are looking for a holistic nutritionist, you have reached the right place.!!
We excel in online diet programs for weight loss and other therapeutic diets including diabetes, cholesterol, high blood pressure, pregnancy, PCOS/ PCOD, fertility and many more.
Please checkout to all our Diet Programs.
At Nutri4Verve, You can Connect Now on Call or just connect for  an informal chat with our expert Dieticians & Nutritionists on WhatsApp
Importantly, You can also Try our Nutri4Verve APP for Free from Google PlayStore or Apple App Store for its amazing features.
Advantages of consulting a renowned Dietician in Hyderabad for weight loss Online
Indeed, the best aspect is that you don't need to go to the Clinic or make trips frequently to follow a diet plan. So, all you need to do to get started is go online and connect via an APP.
Get diet treatments that are comfortable and convenient at your home.
Further, your information is always kept safe and secure, and your privacy is unaffected.
Also, online diet counselling is another highly useful choice.
Your history is readily preserved online for future reference when you connect to an online dietitian about your symptoms. Moreover, saving you time from having to again answer the same questions.
Additionally, You can access the assistance & support whenever you need it.
Finally, due to the speed and clarity of the communication, it is cost-effective.
Healthy weight loss - The Personalized concept
Lose your weight naturally.
With the help of our  professional nutritional advice by experienced dieticians, you will reach your desired weight. A key factor in weight loss, in addition to sport and exercise, is proper and healthy nutrition. Feel comfortable in your body again.
Our nutrition experts will help you lose weight and integrate a healthy and balanced diet into your everyday life. Additionally, you often don't have to do without your favourite foods.
Learn to pay attention to your energy intake and the foods you eat (vegetables, fish, meat, snacks, sugar, fat, carbohydrates, fiber). Nationwide and internationally, we support you with professional nutritional advice on losing weight.
Further, Our recommendations are individually tailored to you and your personal requirements. Also, break with your routine and achieve a better body feeling and well-being. Lose weight naturally without pills or medications. 
Lose your pounds with professional guidance. Truly, we will create an individual meal plan (diet plan) especially for you – no copy paste stuff.!
Of Course, our experienced and certified diet specialists ensure long-term success.
Interesting Facts on Instagram page
Famous 5 Top Dieticians in Hyderabad (Best Nutritionist) Online

1 - Dietician Shivani Sikri - Best Indian Dietician Online
Shivani Sikri is an internationally renowned award-winning dietician, nutritionist, columnist, blogger, and nutrigenomics counsellor based in New Delhi.
Dietician Shivani is best known as the co-founder of Nutri4Verve, her online clinic. Here, She provides customised dietary and nutrition guidance to her clients. Sikri has been honoured with several awards, including the Best Dietitian in Delhi and the Sattva Iconic Wellness Award 2021. You can surely contact the best nutritionist for weight loss in India and across the globe.
After completing her Masters, Shivani Sikri further attained her PGDPHN. Additionally, she also completed her POST GRADUATE DIPLOMA IN NUTRITION & CLINICAL DIETETICS. 
Additionally, to further enhance her knowledge and skill-set as a Nutritionist in the field, she had accomplished several Professional Certificates pertaining to – "Modern Lifestyle Diseases – Awareness and Prevention", "Alcohol and its effects on health" and "HIV-AIDS – Awareness and Prevention". 
Moreover, Shivani has also completed specialised courses from Texas A&M, USA. 
Also, she has also excelled in her Advance Course in "Nutrigenomics for Professionals in Nutrition" USA.
WEBSITE : https://nutri4verve.com/shivani-sikri
Contact : +91-8800339577
SOURCE: WIKITIA
Dr. Lall is the outstanding dietitian in Hyderabad. He applies his expertise in nutrition, diet, and fitness. Also, He educates the patient about the importance, basis, and contents of a balanced diet.
Address: Dr. Lall's CLEAR Clinic, 201, Shreya Nest, 21, R.K.Nagar, Attapur, Hyderabad – 500048.
3 -Dietician Deepa Agarwal
Dr. Deepa Agarwal is a good dietitian in Hyderabad. Her services include weight loss, fat loss, reduce belly/ tummy fat, weight gain, gain muscle mass. Also diet in pregnancy and  diabetic diet, cancer, sports nutrition.
Address: Tanvir Hospital, 8-3-833, Plot Number 100, Phase 1, Kamalapuri Colony, Sri Nagar Colony, Landmark: Near Satya Sai Kalyana Mandapam, Hyderabad
4 - Diet Expert Sujatha Stephen
Dr. Sujatha Stephen is the top dietitian in Hyderabad with more than 15 years of diet experience. Presently, she works as the chief nutritional at MaxCure Hospital Madhapur. 
Address: 9/50, New Dilshuknagar Colony, Near Andhra Bank, Dilshuknagar, Hyderabad, 500060
5 - Nutritionist Dr Vanisree
Dietitian Dr. Vanisree practises in Hyderabad. She has clients because of her services for lowering stress and weight.
Next, She offers diet plans without  medication to her clients. The balanced diet individuals in creating long-term healthy eating habits.
Address: Tanvika Dietfit, Shop No.A6, 1st Floor, Kapil Complex, 21/A 6th Phase, KPHB Colony, Hyderabad.
Client Testinonials at Nutri4Verve
What Our Clients say for our Dieticians & Nutritionists 
Video Testimonial from Ms. Mahima C.
3 – Video Testimonial from Ms. Anjali S.
2 – Video Testimonial from Ms. Nandini K.
4 – Testimonial from Ms. Suranjana M.
What Our Clients say for our
Dieticians & Nutritionists on Google.
Real Words, Real Pride.!! 
Gaurav T., 🇺🇸 USA,  Lost 15 kgs in 3 months says-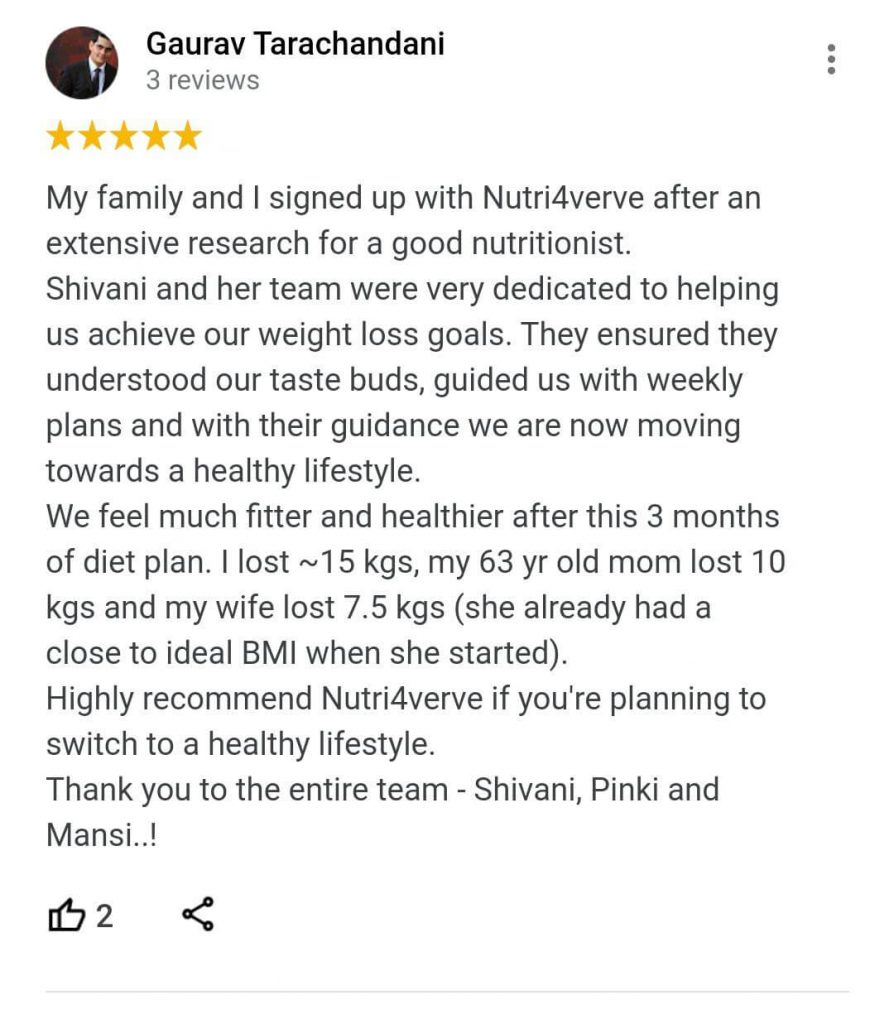 Ashwin G., 🇬🇧 UK, Lost 18 kgs in 3 months says-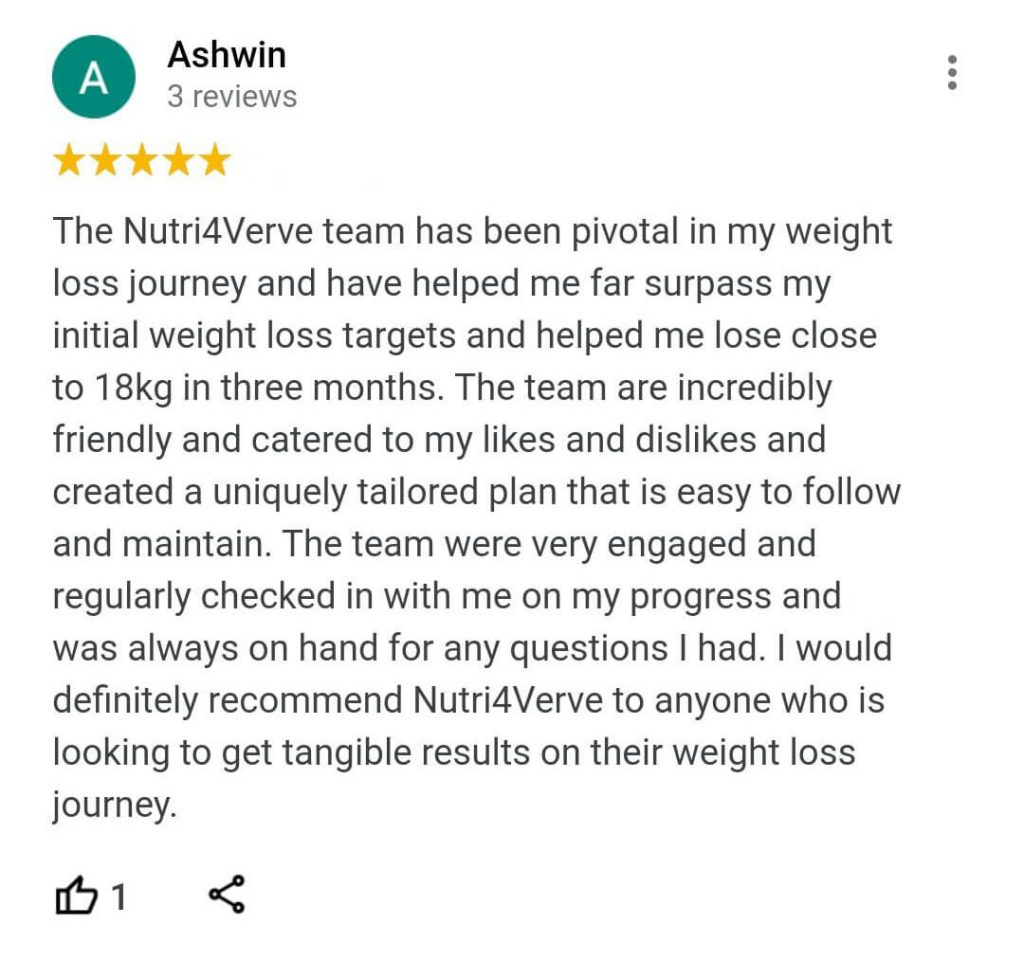 Siddhartha A., 🇸🇬 Singapore, Lost 15 kgs in 3 months says-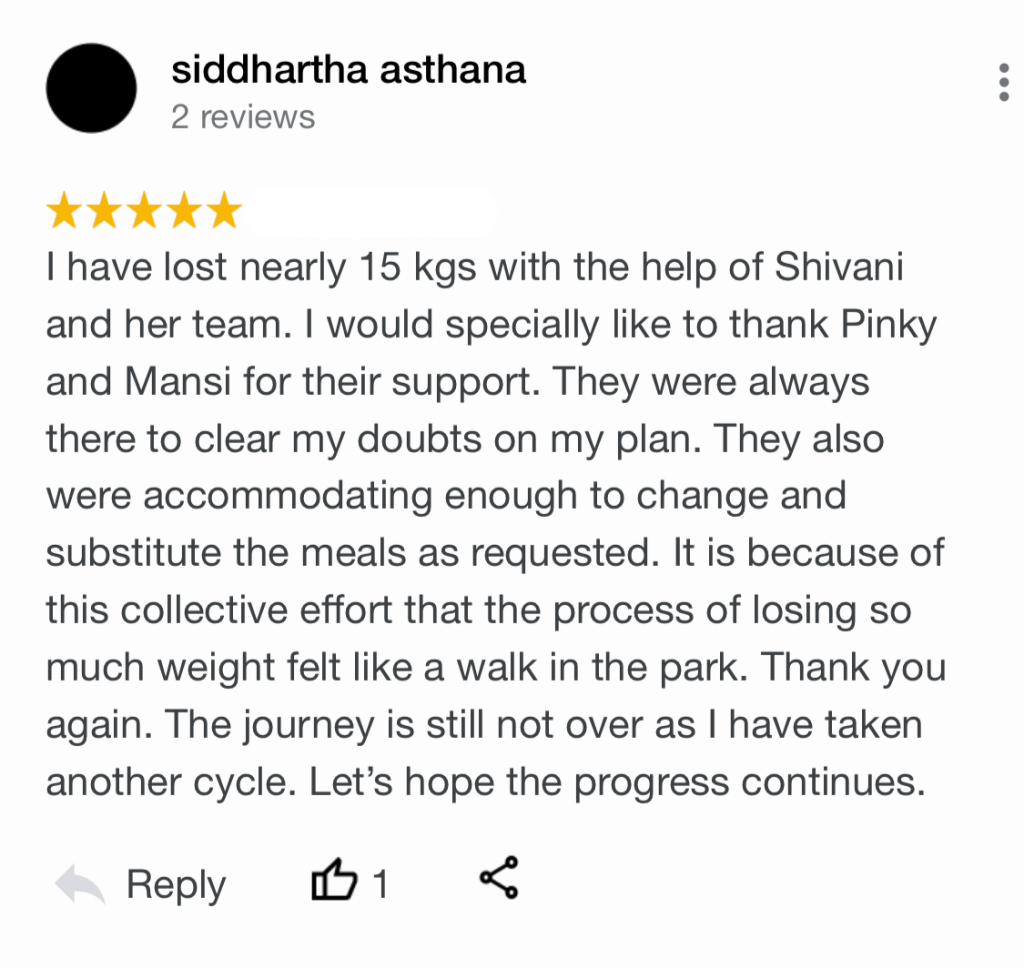 Nandhini R., 🇨🇦 Canada,  Gut Health Management, Lost 8 kgs in 3 months says –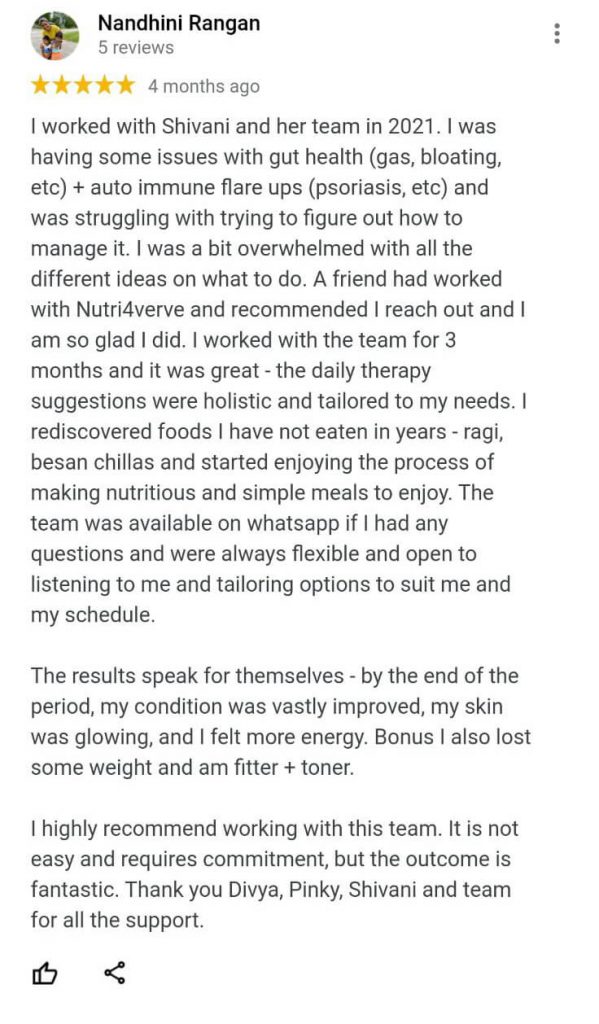 Anurag S., 🇮🇳 Noida, Lost 21 kgs in 6 months says-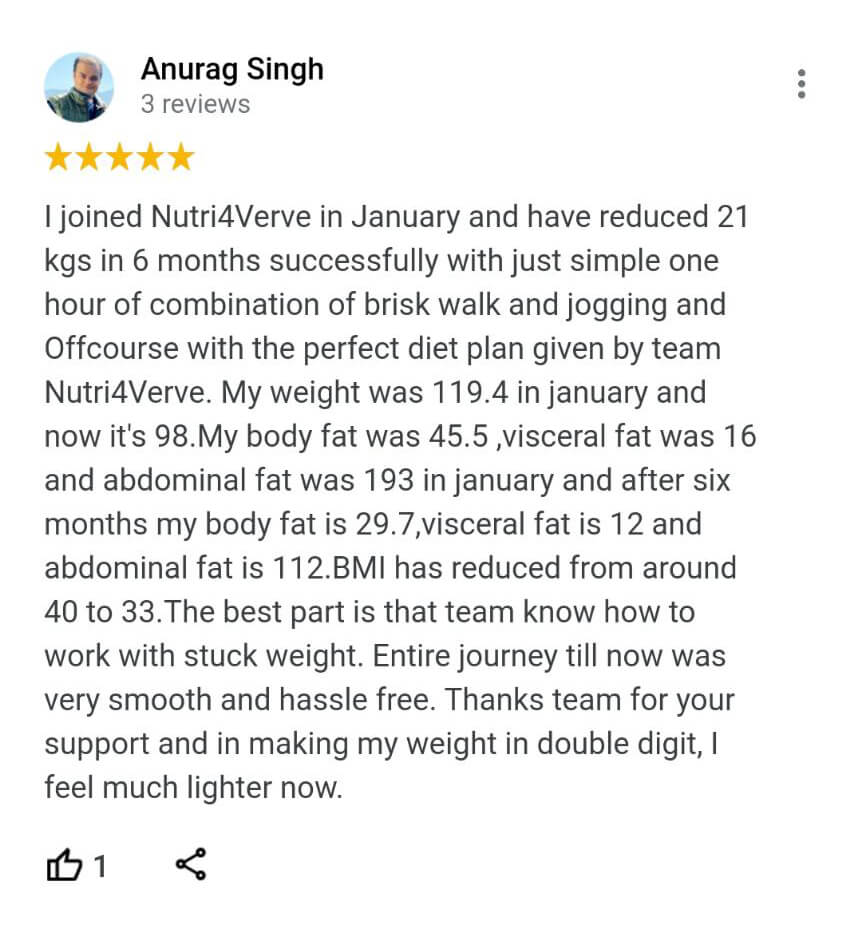 Nilofer K., 🇸🇦 Saudi Arabia, Lost 10 kgs in 3 months says –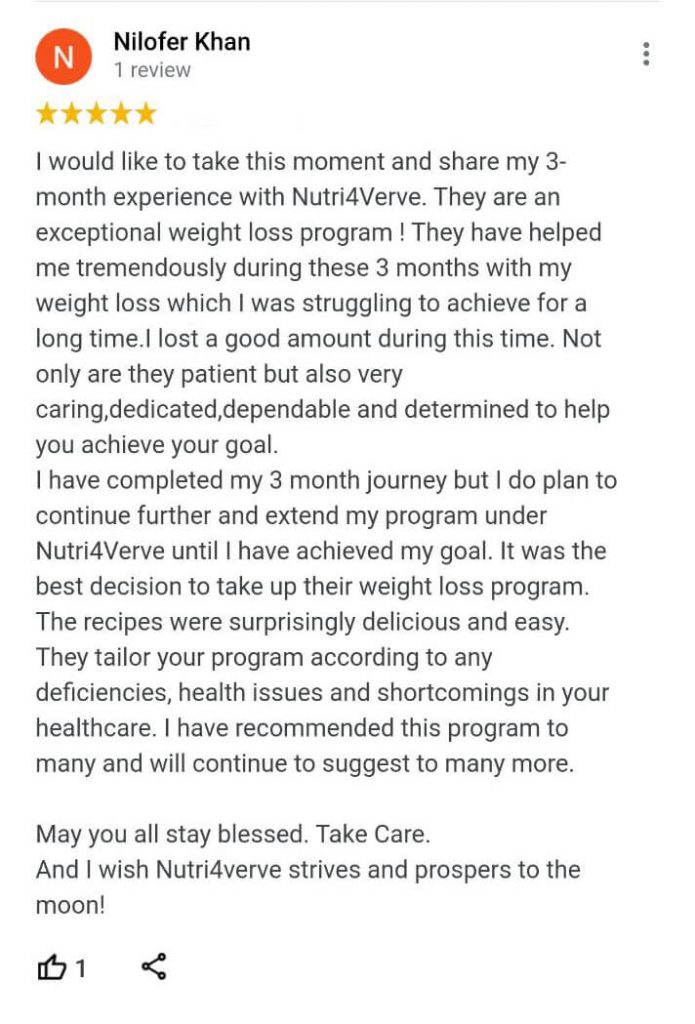 ** Disclaimer: All above testimonial notes are inputs from respective Clients and are placed as it is.. The results are based on their specific diet plans whose results differ from person to person.
Questions in your mind..
Have an informal chat with our expert Nutritionists on WhatsApp or Personal Call..
Sign Up For a Free 1-on-1 Discovery Call on Phone with our Best Dieticians for Weight Loss 
to discuss your Health Challenges & Goals 
Just drop in your details & we shall get back to you later at your preferred time..