Best Dietician for Weight Loss in India
Lose Weight with a Dietician
Nutritional advice by a dietician can help people who are overweight or underweight to change their diet. It makes it easier to lose weight and on the one hand helps to achieve normal weight and then to keep it permanently. So choose your Best Dietician for weight loss in India.
You are what you eat - the most important facts about a Nutritionist/ Dietician
Professional nutritional advice by a nutritionist is always worthwhile, regardless of whether you are on the way to the desired figure, suffer from complaints such as irritable bowel syndrome or other stomach, intestinal or digestive diseases, allergies, states of exhaustion or other physical complaints. 
Even if you are healthy, it is not a mistake to have your eating habits analysed and possibly optimized by a nutritionist or a diet specialist. 
In addition, you can also increase your own performance in sports through targeted food intake. Here's everything you need to know about nutritional advice by best nutritionist in India.
When should you go to a nutritionist for weight loss?
Nutritional advice by a nutritionist for weight loss or maintain optimum health helps at any age and is important in every phase of life. Even with children, one should consciously pay attention to nutrition in order to avoid bad habits.
Nutritional advice for children is therefore a fixed part of the program for many providers. With age, the body changes and with it its needs when it comes to food. Managers who rarely have time to eat and travel a lot on business trips eat differently than housewives.
It is therefore advisable to adapt your eating habits and the foods you eat, depending on the status quo and the associated opportunities. Seniors should also be aware of this. 
Here, too, a visit to a Dietician is in almost every case a good strategy to ensure better health, well-being and possibly a longer life, not only just weight loss…
Who needs nutritional advice by an expert dietician for weight loss — who doesn't?
Perhaps you are now thinking that I can eat healthily myself. I certainly do not need nutritional advice. Many people are like you. With the help of information on the Internet or in books, many people can easily change their diet and achieve all of the associated goals.
But just as many people feel overwhelmed by it. They don't have the time to delve  so deeply into the subject to then be able to decide how they should feed themselves according to their personal situation. 
Uncertainty is particularly high when there is illness. In any case, you want to avoid mistakes that could make the disease even worse.
And if you want to lose weight, you want to do it in a targeted manner with early successes, but at the same time sustainably and without the yo-yo effect. Because some people really have had enough of their own experiments after the umpteenth diet.
What does a nutritionist do?
The main task of a nutritionist is to analyse, improve or, in the best case, optimize the eating habits of customers. This may vary from case to case. The basis is always the initial situation and the goal to be achieved. 
For example, a whole series of physical complaints can be caused by incorrect eating habits. At the same time, diseases of the digestive organs, the skin, allergies, osteoporosis and even cancer and many others can be improved or even cured through a change in diet.
Nutritionists conduct private consultations in which all kinds of information on the subject of nutrition are conveyed. 
The range of topics ranges from losing weight to more athletic performance (such as "Nutritional advice for runners") to nutritional advice for vegetarians and vegans, children, seniors, pregnant women, people with allergies, illnesses or states of exhaustion. The palette is long, since diet has a strong effect on physical condition.
How much a nutritionist charge in India?
Normally, a Nutritionist charge on the basis on per visit or monthly/3 months/6 months /1 year diet programs. So the nutritional advice is billed per hour or monthly basis. 
The amount varies depending on the provider, qualification and scope of the diet consultancy. A nutritional consultation usually consists of around 3-10 appointments. 
The average fees or cost for nutritionist in India is between Rs. 2000 to Rs. 300000 per month. The average cost or fees of a dietician in Delhi is Rs. 3000 to Rs. 60000 per month. 
The initial interview usually requires a little more time, as it involves a complete analysis of the situation. Subsequent counselling sessions are usually shorter and more focused on the current status quo.
According to these general specifications, an individual consultation in the form of an initial discussion should last at least 60 minutes There are also flat rates for any costs incurred for measuring body composition etc.
Of course, the charges for the nutritionists vary depending on education, specialisation and experience. The costs can also vary in the different regions and cities of India. In Chandigarh, for example, the average monthly fees for nutritional advice is significantly lower than in Delhi or Mumbai.
How do I recognise a good nutritionist for weight loss?
In any case, you should ask a nutritionist about their qualification, training and field of expertise and total experience. Since the focus of the providers can be as different as the reasons for the patient's consultation, these should also be checked in detail. Regular further training is also one of the basics of a good qualification.
Professional nutritionists usually commit themselves not to advertise or sell products. If one recommends certain products during the diet consultation, you should always name at least two alternatives – or consistently use materials that are free of product advertising.
Will you receive your personal nutrition plan for weight loss by the nutritionist?
A nutritional plan for weight loss must fit the person and their ideas and requirements as well as their symptoms, it must provide all the nutrients and vital substances, it must fill you up and it must taste good.
The dishes must also be able to be prepared in the time available to the person concerned. It would therefore not appeal to you if you, as a family manager, received complex recipes from your nutritionist and didn't have the time or nerves for them – no matter how healthy the dishes may be.
The financial possibilities must also be taken into account. Assuming you're on a small grocery budget, recipes using special ingredients won't do you much good if they're so expensive that you're out of money after a week. 
Of course, you wouldn't feel particularly taken seriously either. It gets complicated when a nutrition plan has to be drawn up for intolerances, allergies or intestinal diseases – possibly in combination with personal wishes in terms of diet (low carb, vegan, high carb, FODMAP or whatever).
High-quality nutritional advice will therefore be of great help and relief on the way to optimal nutrition.
At Nutri4Verve, all the dieticians and nutritionists purposely keep in mind all of the above, before your diet program is designed.
How can I find the right nutritionist for weight loss in India?
You can, of course, ask your doctor which nutritionists he recommends or simply google around to find the best dietician near me. You can also search the internet.
However, it often seems like looking for a needle in a haystack. You will find far more offers for training as a nutritionist than nutritionists who could advise you.
Choose a nutritionist or a dietician that is best suited for you and not just nearly to your place. Technology along with successful diet APP with dedicated support from the nutritionist can help you lose weight from comfort of your home. Gone are the days where visits were required. 
It is your personal preference. So choose a dietician with whom you can connect personally, who can motivate you through the entire weight loss journey. Speak with the dietician before you start your diet program. Discuss your personal requirements, eating habits, daily routine, your medical ailments, if any. 
Understand the ideology and diet strategies which the dietician will choose for you, and ask why it is perfect for you. Ask for diet plans delivery, and how support will be given in case of any queries or explanations. 
If you are looking for a holistic nutritionist, you have reached the right place.!! We excel in online diet programs for weight loss and other therapeutic diets including diabetes, cholesterol, high blood pressure, pregnancy, PCOS/ PCOD, fertility and many more. Please checkout to all our Diet Programs
You can Connect Now on Call or just connect for  an informal chat with our expert Dieticians & Nutritionists on WhatsApp
You can also Try our Nutri4Verve APP for Free from Google PlayStore or Apple App Store for its amazing features.
Advantages of consulting a Dietician for weight loss Online
The best part is, you don't have to make visits or travel to the Clinic every time for a Diet Plan. You simply have to connect through APP, go Online and start.
Get the comfort and convenience of the diet services at your home.
Your privacy is intact and your information is maintained that is always kept safe and secure
Online diet consultation is a very practical option. When you connect to an online dietician about your symptoms, your history is conveniently saved online for future reference, so you don't have to spend time answering the same questions over and over.
The support is available as and when you need it.
It is cost effective as communication is quick and direct.
Healthy weight loss - The Personalized concept
Lose your weight naturally. With the help of our  professional nutritional advice by experienced dieticians, you will reach your desired weight. A key factor in weight loss, in addition to sport and exercise, is proper and healthy nutrition. Feel comfortable in your body again.
Our nutrition experts will help you lose weight and integrate a healthy and balanced diet into your everyday life. You often don't have to do without your favourite foods.
Learn to pay attention to your energy intake and the foods you eat (vegetables, fish, meat, snacks, sugar, fat, carbohydrates, fiber). Nationwide and internationally, we support you with professional nutritional advice on losing weight.
Our recommendations are  individually tailored to you and your personal requirements. Break with your routine step by step and achieve a better body feeling and well-being. Lose weight naturally without diet pills. 
Lose your pounds with professional guidance. We will create an individual meal plan (diet plan) especially for you – no copy paste stuff.!
Our experienced and certified diet specialists ensure long-term success.
Interesting Facts on Instagram page
Famous Top 5 Dieticians (Best Nutritionist) Online for Weight Loss in India
1 - Dietician Shivani Sikri - Best Dietician for Weight Loss
Shivani Sikri is an internationally renowned award-winning dietician, nutritionist, columnist, blogger, and nutrigenomics counsellor based in New Delhi.
Shivani is best known as the co-founder of Nutri4Verve, her online clinic where she provides customised dietary and nutrition guidance to her clients. Sikri has been honoured with several accolades, including the Best Dietitian in Delhi and the Sattva Iconic Wellness Award 2021. You can surely contact the best nutritionist for weight loss in India and across the globe.
After completing her Masters, Shivani Sikri further attained her POST GRADUATE DIPLOMA IN PUBLIC HEALTH AND NUTRITION (PGDPHN). Additionally, she also completed her POST GRADUATE DIPLOMA IN NUTRITION & CLINICAL DIETETICS. 
To further enhance her knowledge and skill-set as a Nutritionist in the field, she had accomplished several Professional Certificates pertaining to – "Modern Lifestyle Diseases – Awareness and Prevention", "Alcohol and its effects on health" and "HIV-AIDS – Awareness and Prevention". 
She has also completed specialised Extension Online Certificates from Texas A&M, USA in the subjects – Healthy eaters: Infant and Toddler Nutrition in Child Care – and Osteoporosis 
She has also excelled in her Advance Course in "Nutrigenomics for Professionals in Nutrition" USA.
WEBSITE : https://nutri4verve.com/shivani-sikri
Contact : +91-8800339577
SOURCE: WIKITIA
2 - Dietician Rujuta Diwekar
Originally from Mumbai, Rujuta Diwekar is a leading celebrity nutritionist to some of India's finest actors and sports persons including Kareena Kapoor, Alia Bhatt, Gautam Gambhir, Varun Dhawan and Harsh Jain. Her journey started as a PG student of Sports Science and Nutrition at SNDT College Mumbai. 
One of the Dietitians in India is Dt. Priyanka. She runs her clinic in Chandigarh and provides all health facilities across the world. Dt. Priyanka offers easy diet plans with a positive output. With her work, she pleased many clients. Registered Address – Phase – 9, Sahibzada Ajit Singh Nagar, Chandigarh, Punjab, India, Pin – 160062. 
4 - Dietician Anjum Shaikh 
The known dietitian which you can again choose as the best dietitian in India. The famous dietitian is well known for inches loss. 
5 - Dietician Ishi Khosla 
Ishi Khosla is a renowned dietitian. She follows a healthy life and gives tips to clients about good eating habits. She guides people online and meets them personally. Registered Address – Panchsheel Park, New Delhi
Client Testinonials at Nutri4Verve
What Our Clients say for our Dieticians & Nutritionists 
Video Testimonial from Ms. Mahima C.
Video Testimonial from Ms. Anjali S.
Video Testimonial from Ms. Nandini K.
Testimonial from Ms. Suranjana M.
What Our Clients say for our
Dieticians & Nutritionists on Google.
Real Words, Real Pride.!! 
Gaurav T., 🇺🇸 USA,  Lost 15 kgs in 3 months says-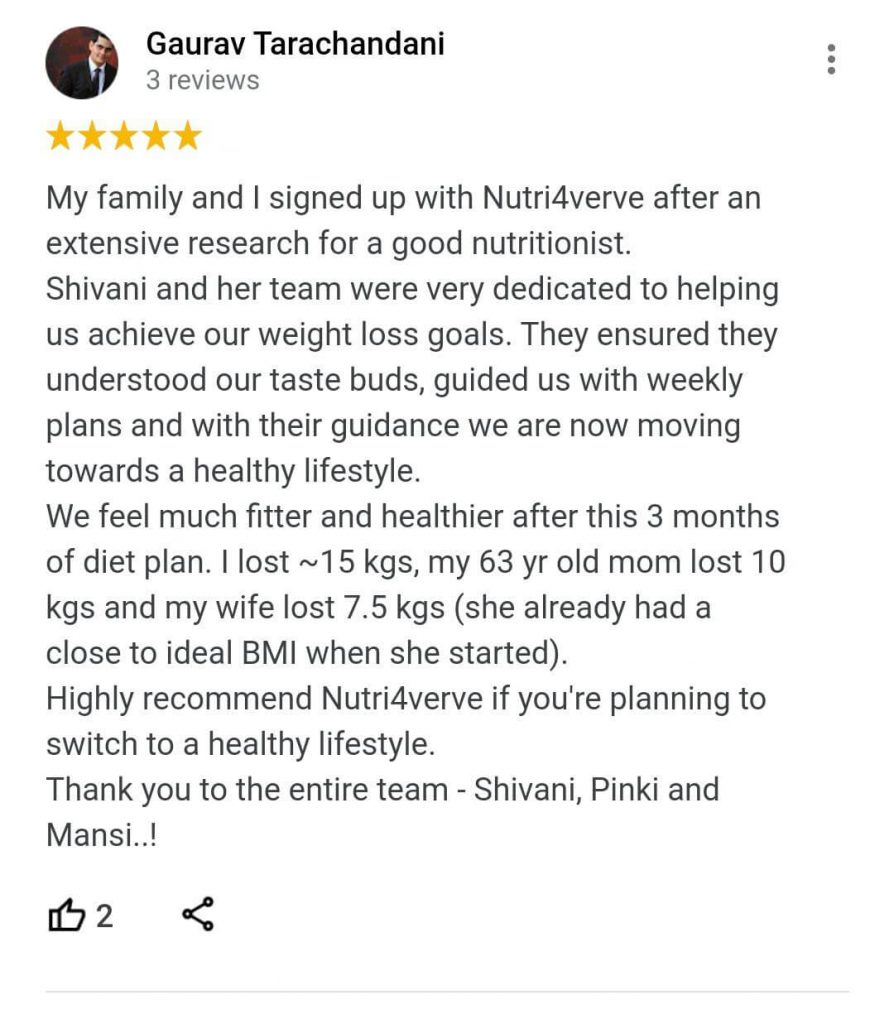 Ashwin G., 🇬🇧 UK, Lost 18 kgs in 3 months says-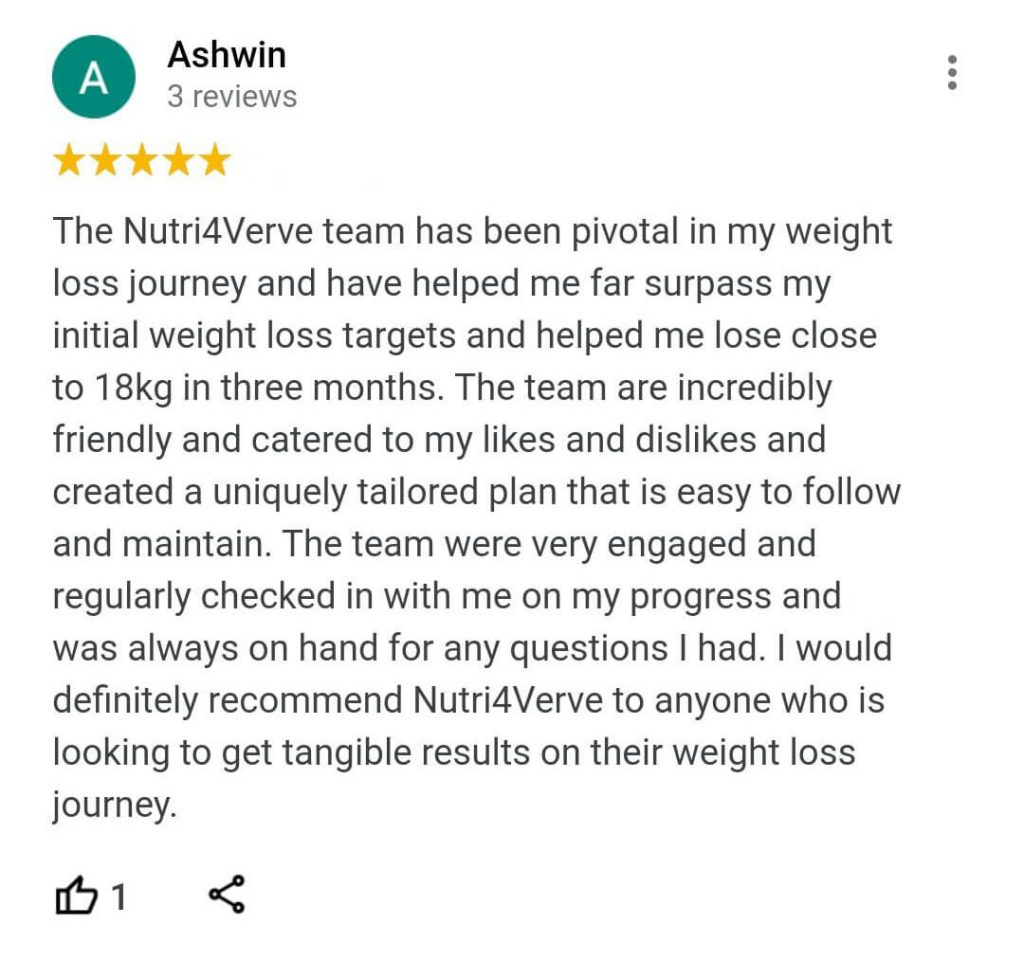 Siddhartha A., 🇸🇬 Singapore, Lost 15 kgs in 3 months says-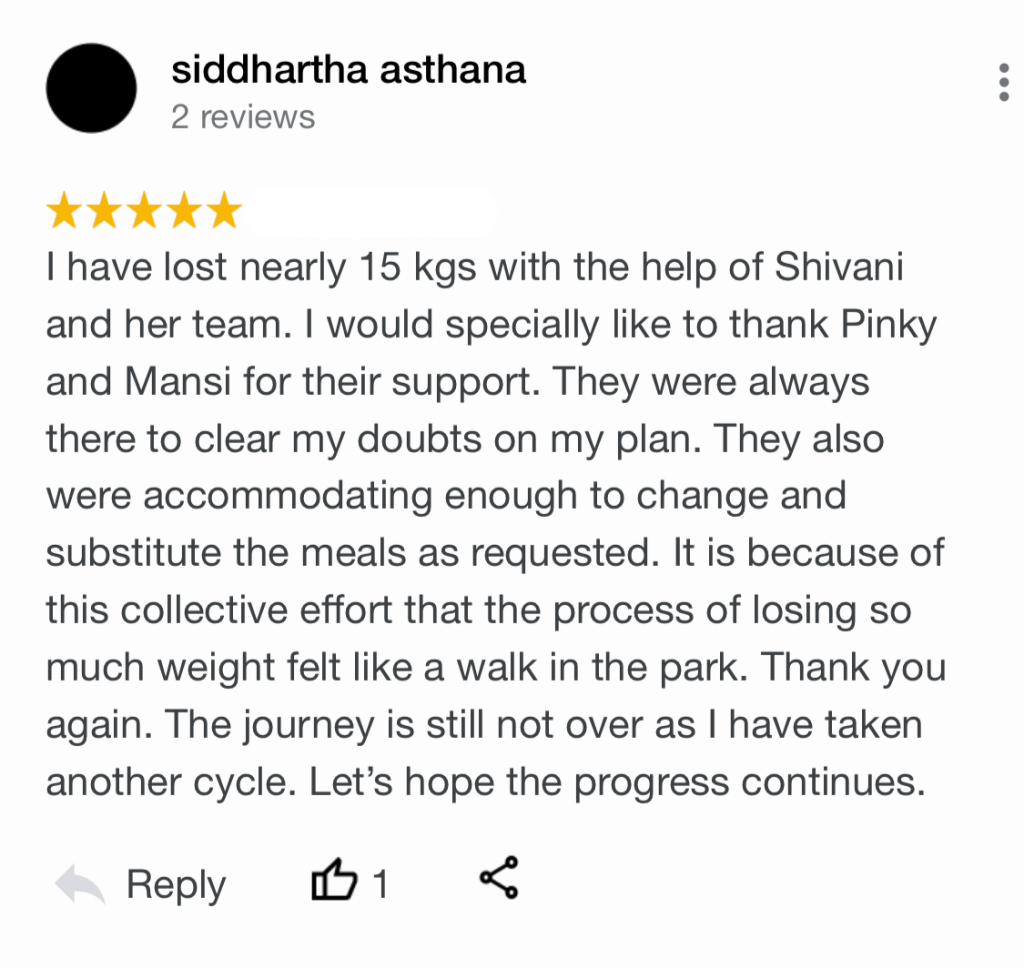 Nandhini R., 🇨🇦 Canada,  Gut Health Management, Lost 8 kgs in 3 months says –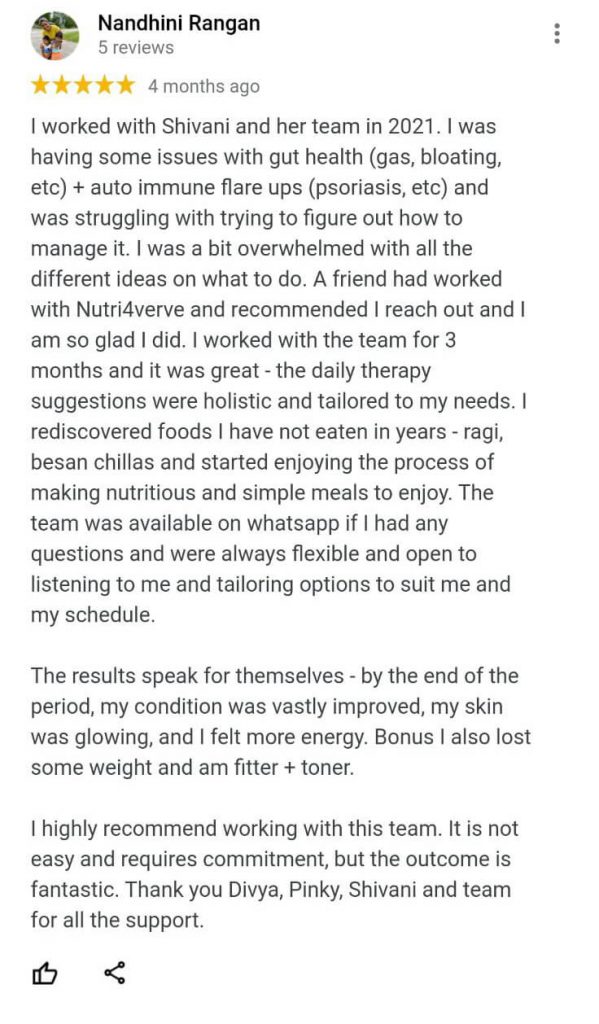 Anurag S., 🇮🇳 Noida, Lost 21 kgs in 6 months says-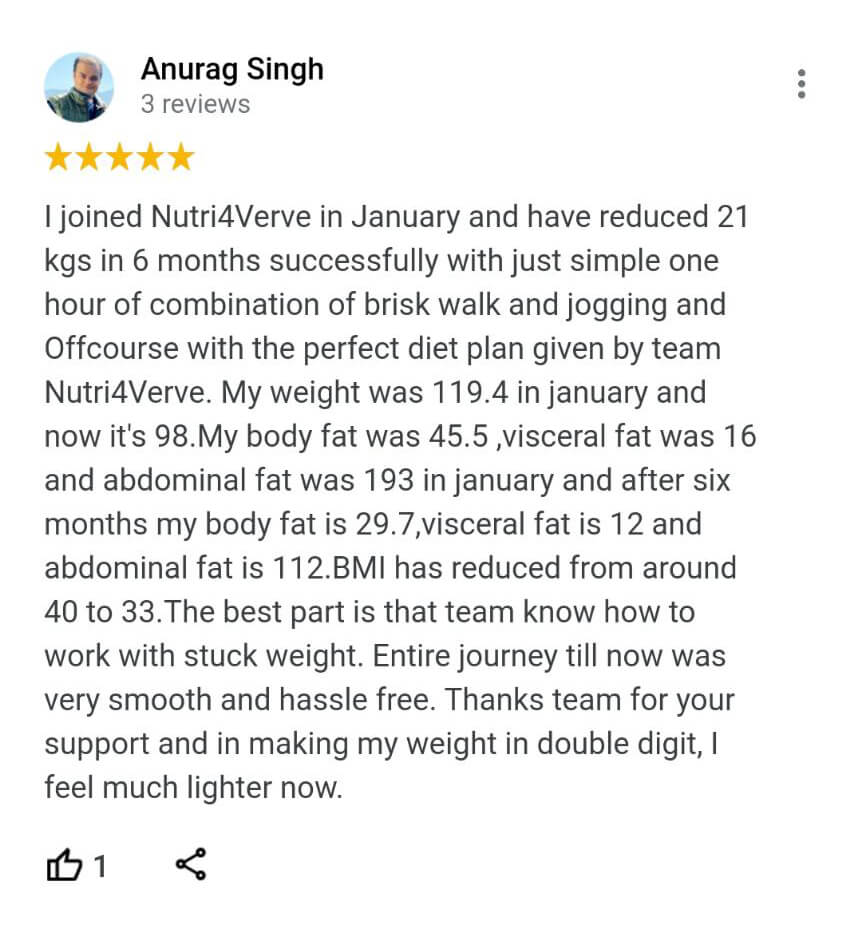 Nilofer K., 🇸🇦 Saudi Arabia, Lost 10 kgs in 3 months says –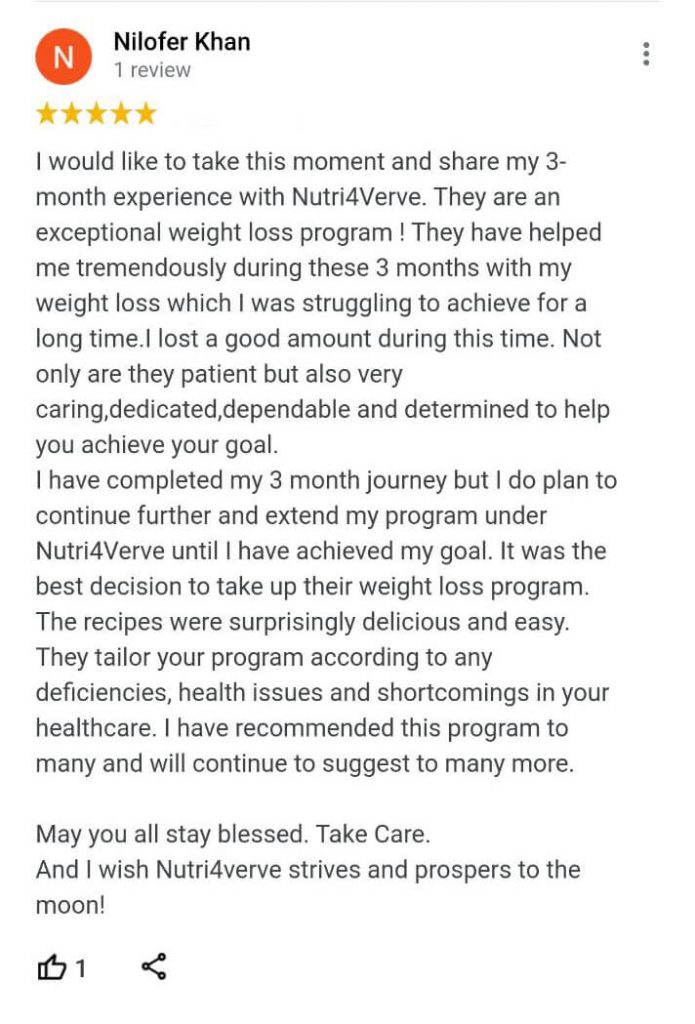 ** Disclaimer: All above testimonial notes are inputs from respective Clients and are placed as it is.. The results are based on their specific diet plans whose results differ from person to person.
Questions in your mind..
Have an informal chat with our expert Nutritionists on WhatsApp or Personal Call..
Sign Up For a Free 1-on-1 Discovery Call on Phone with our Best Dieticians for Weight Loss 
to discuss your Health Challenges & Goals 
Just drop in your details & we shall get back to you later at your preferred time..